Main Libraries ARL Statistics 
Question                                                                     FY 2016-2017 Totals
| | |
| --- | --- |
| Titles held June 30 | 3,358,654 |
| Volumes held June 30 | 3,531,769 |
| Electronic books (included in question 2) | 1,290,425 |
| Total library expenditures (exclude fringe benefits) | 16,341,674 |
| Total library materials | 8,255,545 |
| One-time resource purchases | 847,580 |
| Ongoing resource purchases (e.g., subscriptions, annual license fees) | 7,322,210 |
| Collection Support | 85,755 |
| Total salaries and wages | 7,254,630 |
| Professional staff | 4,795,720 |
| Support staff | 1,790,346 |
| Student assistants | 668,564 |
| Other operating expenditures | 831,499 |
| Fringe Benefits | 2,201,913 |
| Official designated percent | 29 |
| Consortia/Networks/Bibliographic Utilities Expenditures from External Sources | 219,364 |
| Total Staff, FTE | 235 |
| Professional staff, FTE | 92 |
| Support staff, FTE | 68 |
| Student assistants, FTE | 75 |
| Number of library presentations to groups | 942 |
| Number of total participants in group presentations | 19,934 |
| Number of reference transactions | 43,067 |
| Number of initial circulations (excluding reserves) | 110,841 |
| Number of successful full-text article requests (journals) | N/A |
| Number of regular searches (databases) | N/A |
| Number of federated searches (databases) | N/A |
| Total number of filled requests provided to other libraries | 13,953 |
| Total number of filled requests received from other libraries or providers | 10,673 |
| Annual Gate Count | 1,457,815 |
| Number of Doctor's Degrees awarded | 746 |
| Number of fields in which Doctor's Degrees can be awarded | 81 |
| Number of full-time instructional faculty | 1,806 |
| Full-time students, undergraduate and graduate | 35,142 |
| Part-time students, undergraduate and graduate | 5,456 |
| Full-time graduate students | 5,894 |
| Part-time graduate students | 2,035 |
Libraries Included: Strozier (Main); Dirac (Science); Engineering; Music; Ringling; Panama City, Panama Branch; Goldstein (College of Communication and Information); and Panama City Beach, FL campus.
A closer look at FSU Library Expenditures (FY 2016-17).
The following charts include expenditures for all FSU Libraries; Strozier, Dirac, Engineering, Law, Medical, Music, Goldstein, Special Collections, FSUPC, and FSURP.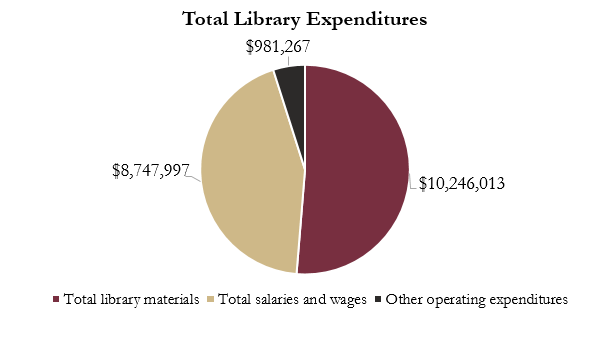 Library expenditures totaled $19,975,277 for FY 2016-2017. 
The greatest amount of money is being spent on Library Materials. Further breaking down where that money goes results in the following: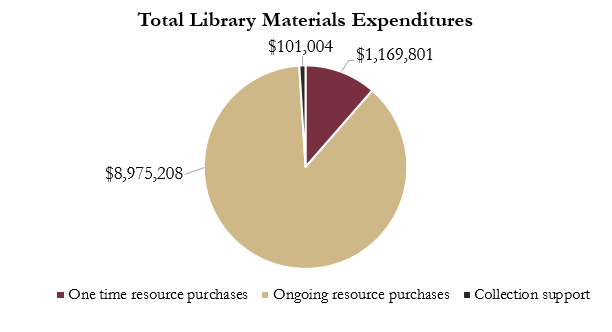 Within this category, FSU Libraries spends the most money on paying for ongoing resource purchases. This includes paying for subscriptions and annual licensing fees.
Salaries and Wages is the second largest category of spending for FSU Libraries.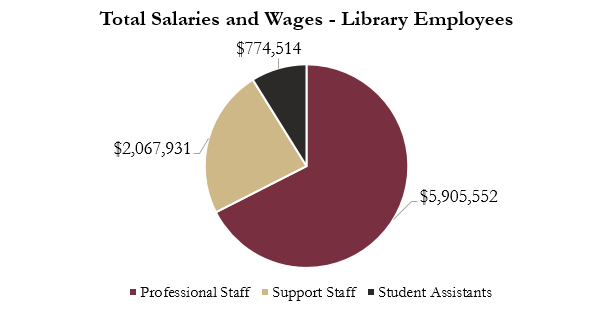 There was a total of 262 library employees classified as FTE (full-time equivalent).