How the Printer Works
---
The printers used at Dirac Science Library are two LulzBot TAZ 6 3D printers.  This brand of printer prints through fused deposition modeling (FDM).  It creates 3D objects by stacking thin layers of heated plastic, which fuse and set into a solid shape as they cool and harden. The printer pulls plastic filament from a spool into the extruder where the plastic is heated to melting.  The melted plastic is then extruded into a pre-set pattern onto a flat plate where it will form the final shape of the model.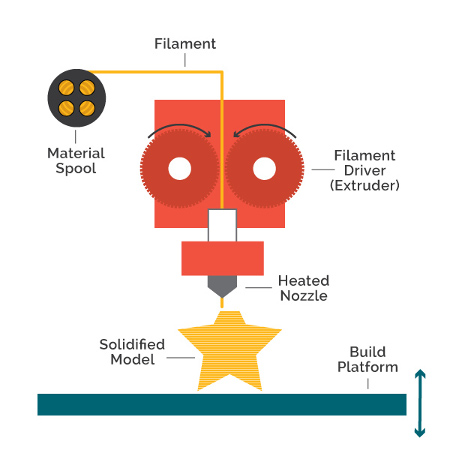 Due to the thin layers the LulzBots print, most models take several hours or more to complete depending on the size.
Printing Material
---
The materials Dirac currently uses to print with our LulzBot printers are PLA (Polyactic acid) and nGen filament.  PLA (polylactic acid) is a biodegradable thermoplastic derived from corn. nGen is is a high quality, polyester-based filament made from Eastman Amphora AM3300 3D polymer.  Both materials print corners and edges well and tend to demonstrate less warping than some other types of plastic used for 3D printing.
PLA typically prints with a more a glossy and smooth appearance while nGen provides a slightly more detailed finish.  Due to a relatively low glass transition temperature (when the plastic starts to soften) printed objects may start to lose shape in hot environments.  The Dirac 3D Print Service uses these two types of filaments for all prints.
Tech Specs:
Bed Temperature: 60 - 85° F
Extruder Temperature: 205 - 230° F