As of March 2019, FSU's access to Elsevier content on the ScienceDirect platform has been reduced. Article availability is now limited to the 2019 subscribed titles list and previously subscribed holdings. To help mitigate these changes, FSU Libraries are committed to providing access to unsubscribed content through the following strategies:
Prompt delivery via Interlibrary Loan for access within 48 hours (login to ILLiad). (FSU Library pays $0)
Expedited Article Service for faculty and graduate students who need access within two hours (view the tutorial). (FSU Library pays up to $35)
In addition to the above options, FSU researchers can utilize a number of alternative strategies to get access to unsubscribed content.
Find an open access copy
Many articles may already be available open access (OA), either directly from the journal or from a variety of other online sources, including open repositories, author webpages, or academic networking sites. Some of these OA articles will be identical to the final published version, while others will be accepted manuscripts (AMs) that contain the full peer-reviewed text but lack publisher branding and typesetting. Given the growth of OA in recent years, it is worth searching Google Scholar or using one of the tools below to see if the article you need is freely available online.
Browser plug-ins
The following browser extensions will search aggregated OA collections and the open web to help you find OA versions of desired articles.
Open Access Button (OA Button). You can use the OA Button website or browser extensions to check for freely available OA versions. When an OA version is not found, OA Button can be used to contact the authors directly and request that they make a version available.
Unpaywall. This Chrome/Firefox browser extension will point you to any open access versions of paywalled articles you come across online.
Open repositories
Many authors deposit copies of their articles in open repositories. These repositories are indexed by major search engines (and the tools mentioned above), so simply searching for an article in Google Scholar should retrieve an OA version if it exists. When viewing results in Google Scholar, make sure to click the "All versions" link at the bottom of each search result: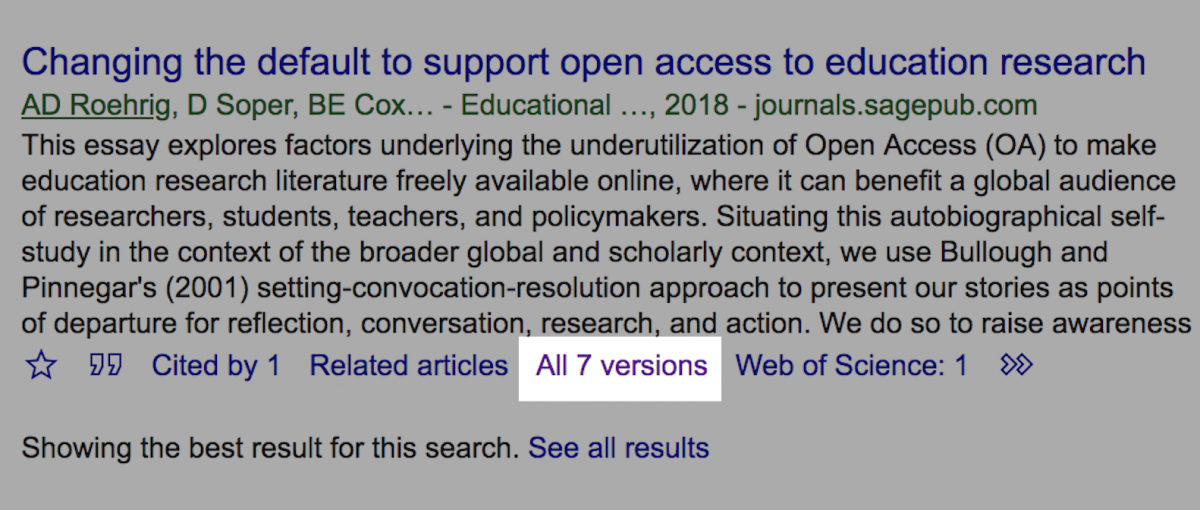 Note: The FSU Libraries do not endorse using Sci-Hub for article access.
Request a copy from the authors
Elsevier allows authors to share the final published version of their articles privately to colleagues for their personal research use (a practice known as "scholarly sharing"). Since author names and institutional affiliations are usually listed on the first page of an article, it is fairly straightforward to find an author's contact information and request a copy via email. Many authors are grateful to receive requests to read their work and will be happy to oblige.
Alternatively, you can make a request to the author via Twitter using the hashtag #icanhazpdf with a link to the publication you need.
Negotiate with the publisher
If you serve in an editorial capacity for an Elsevier journal, consider contacting the publisher to request access to specific Elsevier titles that are important to your research. Editors provide a valuable service to Elsevier journals, and the publisher may be willing to exchange access privileges as a good faith gesture.
Availability of Pre-prints
Please note that in-press articles (also labeled as "accepted manuscripts" on the ScienceDirect platform) may not be obtainable through Interlibrary Loan or the Libraries' Expedited Articles service. This is due to the fact that such articles have yet to be formally published and assigned to a journal volume and issue. If you need access to an in-press article, please either contact your departmental Subject Librarian or contact the authors directly to request a copy by email.
Contact your librarian
If you have any questions or concerns, or are having trouble accessing a specific article, please contact your departmental Subject Librarian for assistance.