FSU Libraries use data to drive its decision making to improve access, services, and collections for the FSU population.

The following figures include library turnstile information pertaining to all entering students, faculty, staff, and visitors: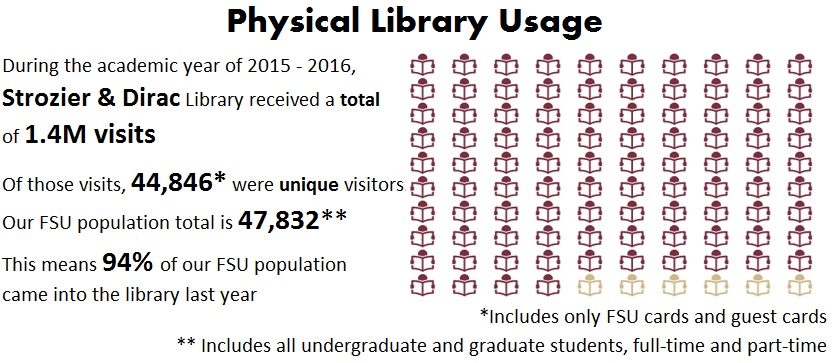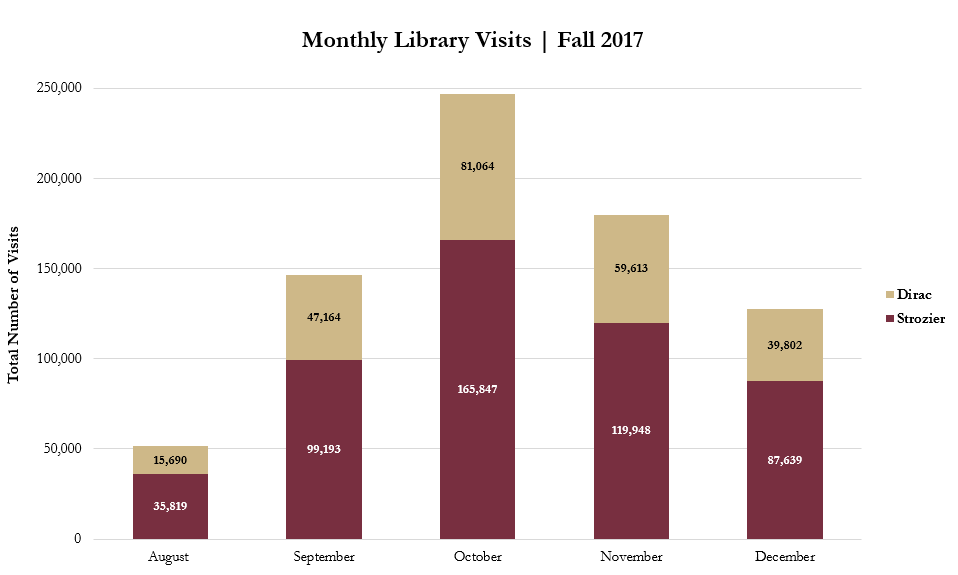 Strozier and Dirac were busiest during the month of October, with over 200,000 total visits throughout the month.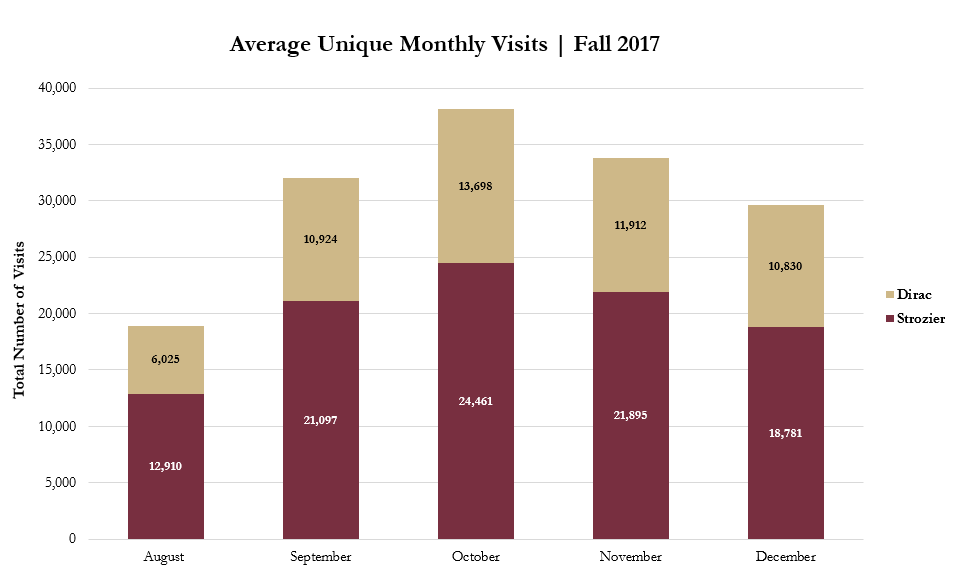 October was also the busiest month of the semester in terms of unique visitors, meaning that 38,159 separate individuals entered Strozier and Dirac.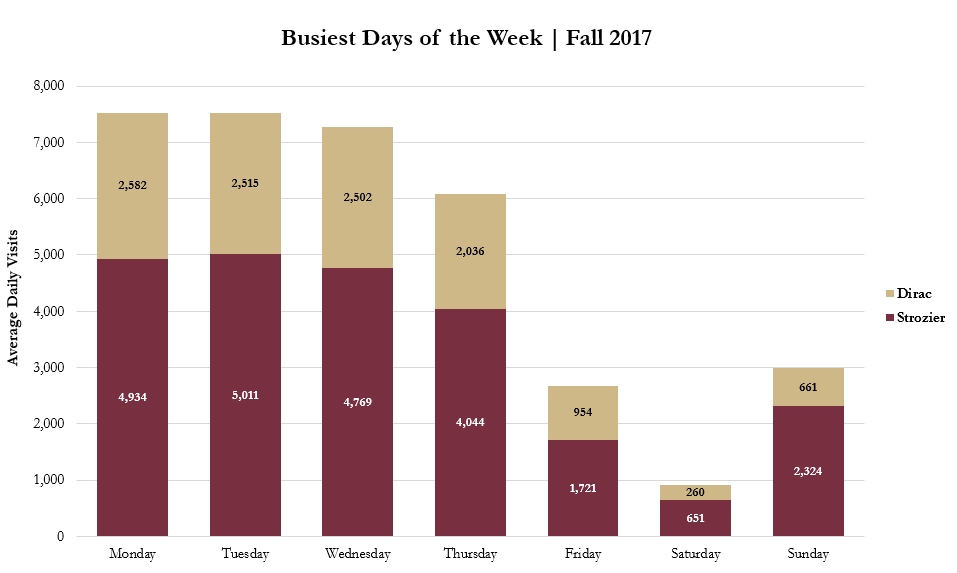 During the Fall 2017 academic semester, Strozier and Dirac had an average number of 7,516 visits on Mondays and 7,526 visits on Tuesdays, the two busiest days of the week.
*The main library (Strozier) typically closes at 6pm on Fridays and reopens from 10am-6pm on Saturdays. It then opens again at 12pm on Sunday and continues to be open 24/7 until Friday. The science library (Dirac) is typically open from 8am-1am Monday through Thursday, closing at 5pm on Fridays. It reopens from 10am to 6pm on Saturdays and then once again at 1pm to 9pm on Sundays.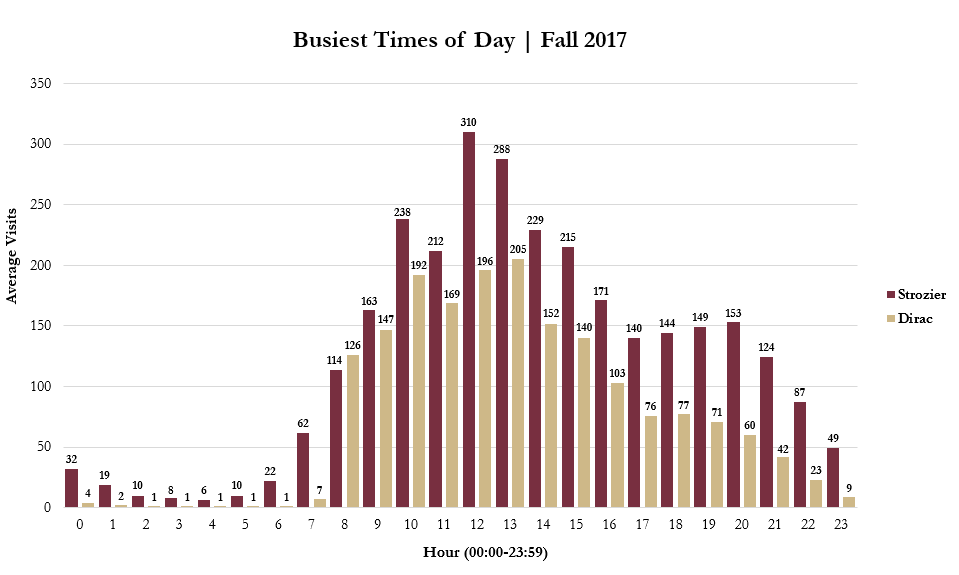 The busiest time of day for Strozier was between 12-1pm, when the library received an average of 310 people entering its doors. Dirac's busiest time of day was from 1-2pm, with an average of 205 visitors having entered.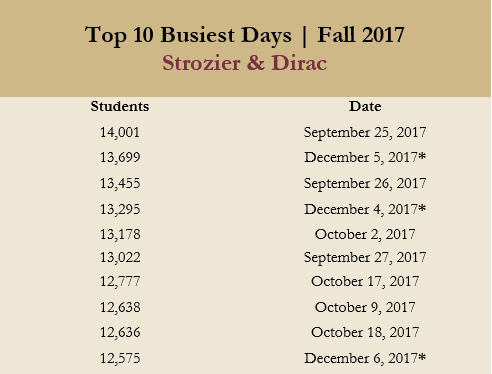 Three of Strozier's and Dirac's busiest days were during the week before finals, noted by dates marked with an asterisk (*). The days in September were immediately following FSU's closure for Hurricane Irma.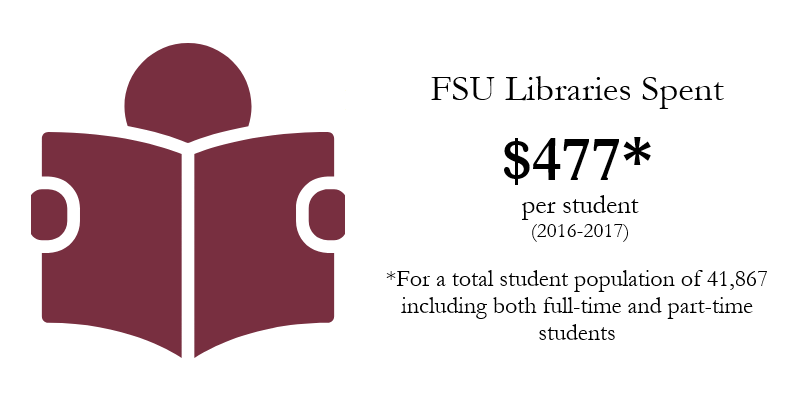 Assessment Librarian
Assessment at Florida State University Libraries:
Assessment is primarily concerned with developing, administering, measuring, analyzing and disseminating qualitative and quantitative data on library use and services. These data contribute to a collective knowledge-base for understanding our customers, helping us make informed decisions about services, spaces and collections at FSU Libraries and demonstrate the impact and contributions to faculty and student success outcomes. Assessment is a collaborative and cross
departmental effort within the library, on campus, and beyond. It coordinates, collects, stores and disseminates data to local and national organizations, such as the Association of Research Libraries, the Association of College and Research Libraries, and National Center for Educational Statistics. The department exists to proactively consult and equip library staff with the knowledge, tools, and support needed throughout the research process and to be vigilant of new and innovative methods for data collection, analysis, and documentation.
A great university requires a great library.