About
Electronic Resources Management is the department in the library responsible for licensing as well as maintaing and providing access to the library's online materials. Our department offers over 1 million electronic resources that we have obtained from over 200 vendors. Each year we renew subscriptions to allow access to resources such as e-books, articles, peer-reviewed journals, streaming videos, newspapers, and more! We are always updating our holdings so that faculty, staff, and students can have materials that is relevant to their interests, needs, and research.
Using Electronic Resources
Access to our electronic resources is limited to active members of the University, such as currently enrolled students, faculty, and staff. If you are not one of these active members, FSU Libraries offer computers within our facilities where anyone can access our databases and catalog. Community members, retired faculty, and alumni will need to acquire a visitor pass from building security. Take a look at the Vistor's Information Page for more information about visiting our libraries as a guest.
Searching for FSU E-Resources
Patrons can search or browse through FSU's electronic resources by using the search box that is located on the main library website. Type in keywords or resource titles in the search box, also called OneSearch, or use any of the other links located near the search box, such as the "Advanced Search", "Journal Search", "FSU Theses and Dissertations", or "Special Collections Search" links. Remember to always start your research on the library website to guarantee access to resources.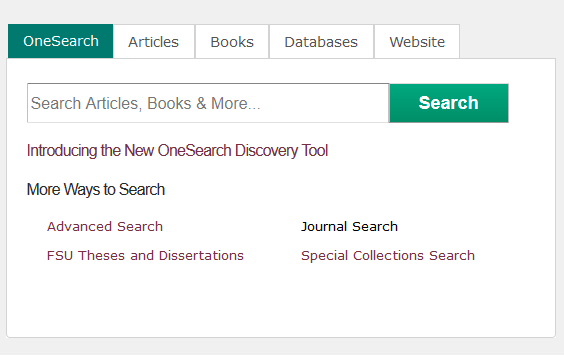 Here's some additional information about specific electronic resources and access help:
E-Books - Visit the E-Books LibGuide for information on using and accessing electronic books. Search for electronic books by conducting a search in the library's database and catalog, shown in the screenshot above.
Databases - Visit the Databases A-Z or Databases by Subject list for a full list of databases for active FSU library patrons. The lists can also be found by choosing the appropriate links within the Databases tab, shown in the screenshot above.
Troubleshooting - For FAQs, troubleshooting tips and a list of alerts about issues we're currently working on, visit the Troubleshooting LibGuide.
Off-campus access - FSU eResources can be accessed by active members while off campus. For information and help with off-campus access to electronic resources, visit this Off-Campus Access Solutions Guide.
Linking to Resources - Visit this helpful Linking to Resources Guide for some information on linking.
Report a Problem
Are you experiencing an issue while trying to access an electronic resource? Patrons can contact us either by email directly at lib-erm@fsu.edu or by choosing the "Report a Problem via Primo" link located for resources in the library database and catalog.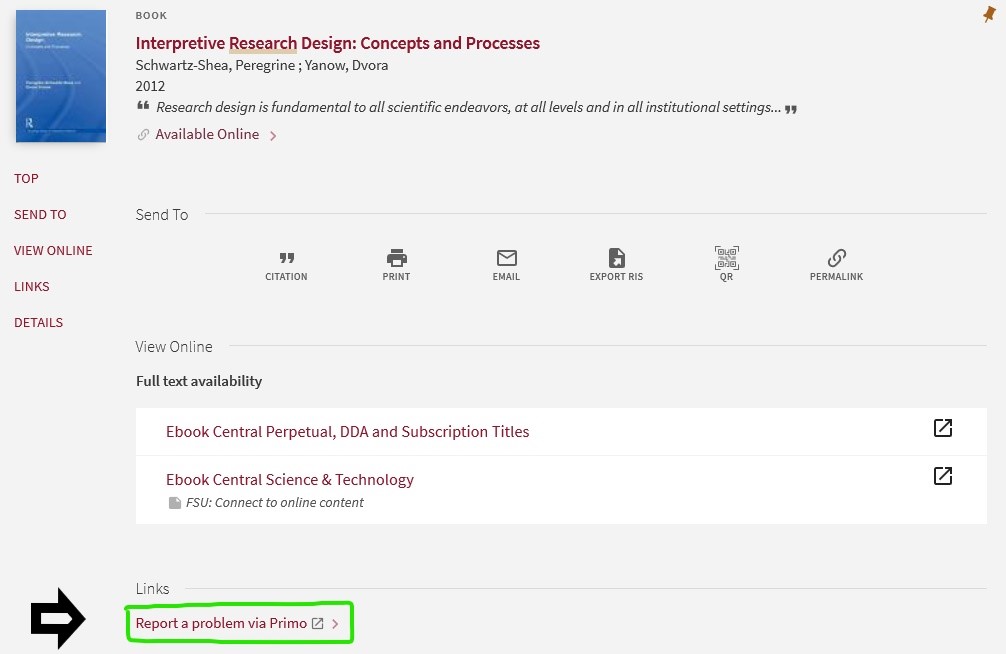 Contact
Scott Schmucker, Electronic Resources Librarian, sschmucker@fsu.edu.
Please contact lib-erm@fsu.edu if you're experiencing problems.