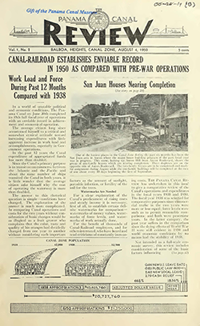 The U.S. Government Publishing Office and the George A. Smathers Libraries at the University of Florida (UF) make the digital versions of the Panama Canal Commission publications, and its predecessor agencies, available on GPO's govinfo. 
The collection contains a variety of publications that provide a glimpse into the workings of the Canal and life in the Canal Zone. 
The United States Government controlled and operated the Panama Canal and the surrounding Canal Zone from 1904 through 1999. The Panama Canal Commission was the final Federal agency to manage, operate, and maintain the Canal.  The Commission was created by the Panama Canal Treaty of 1977, and superseded the Canal Zone Government and the Panama Canal Company.  The Commission operated the Canal until the expiration of the Panama Canal Treaty on December 31, 1999, when the Republic of Panama assumed full responsibility for the Canal.
---
The National Plan is a framework document that conveys our guiding principles and sets our strategic direction. It supports the Federal Depository Library Program (FDLP) and the Cataloging & Indexing Program (C&I), statutory programs of the Superintendent of Documents, by applying a user-centric outcomes-based approach to service. All of the actions help to fulfill our statutory mandates while clearing a path for the digital age and achieving our vision: "to provide Government information when and where it is needed."
Strategic Priorities
Lifecycle Management
Establish Library Services and Content Management (LSCM) processes and procedures that apply lifecycle management best practices for all formats, while also ensuring permanent public access to Government information dissemination products in the digital age.
This addresses the internal need of LSCM to shift from print-centric to being content centric for the digital age. Some new processes will be developed, and workflows will be reviewed and adjusted.
FDLP Governance
Provide a governance process and a sustainable network structure that ensures coordination across the FDLP and allows the most flexible and effective management of depository libraries and their resources.
This relates to what GPO needs to do to allow more flexibility in Federal depository libraries so they can meet the local demands of libraries in the digital age. Examples of actions in this area include reviewing/revising FDLP regulations, Superintendent of Documents policies, Title 44 modernization, and the recently-approved policy, Government Publications Authorized for Discard by Regional Depository Libraries. (Read the JCP response letter, along with GPO Director Davita Vance-Cooks' original approval request for this new policy.)
Services
Deliver new dynamic, innovative, and strategic services and mechanisms to support the needs of Federal depository libraries in providing accurate Government information to the public at large in a timely manner.
This is providing direct services to FDLs so that they can provide better and more accurate services and assistance to the public (e.g., expanding educational opportunities through the FDLP Academy, cataloging record distribution, national needs and offers, and a more robust Integrated Library System).