Workforce Recovery News

Florida WIOA Plan: CareerSource Florida has released its final version of the State's unified plan to implement the Workforce Innovation and Opportunity Act.  Under the adult education component of WIOA, public libraries will be able to apply for competitive grants beginning in the spring of 2017. BLD is already working with CareerSource to ensure that libraries will have all the information and training needed to prepare for these opportunities in the upcoming months. You can also contact your local
workforce boards and/or CareerSource representatives for pertinent local information on these opportunities.
---

Florida History Day (FHD) is now the new name for the Florida History Fair program hosted by the Department of State's Museum of Florida History. The change brings the name of the program in line with other National History Day (NHD) affiliates. A new logo for the program features an updated look with vibrant colors that match the characteristics of the Sunshine State.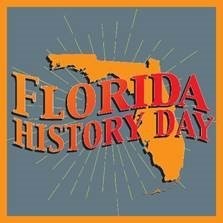 The new logo for Florida History Day
About Florida History Day: Florida History Day is part of National History Day (NHD). NHD was established in 1974 to promote history in the classroom by offering students the means and encouragement to research people, ideas, and events of the past. The 2016–17 theme is "Taking a Stand in History." After analyzing and interpreting the information they have gathered, students express their findings in a paper, exhibit, performance, documentary, or website. More than 69,200 students participated in the 2015–16 Florida History Day. For more information, visit floridahistoryday.com.