---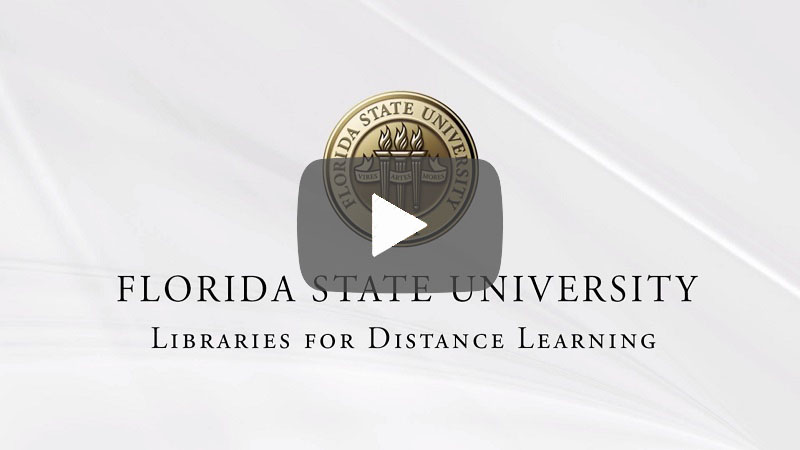 FSU Libraries provide the resources you need to be successful whether you are on-campus or learning at distance. Check out our collection of pertinent research guides below to get started on your research and learn more about the valuable services offered by your library system.
---
Getting Started @ FSU Online
Getting Started at FSU Libraries - Details resources and services to support your education and development here at Florida State.
Extended Campus Guides - Showcase our extended campus locations and inform users how how to get the resources they need. It also highlight local resources for these locations.
Distance Services for Students - Details how to access library materials, resources, and services for online students.
Resources for Distance Education Faculty - Provides information to support faculty teaching online courses at FSU.
Citation Guide - Offers citation assistance for APA, MLA, and Chicago style guide.
Apps for Research - Use this guide to learn about apps that can help you use your smartphone or tablet to research, study, and more.
---

Open Access Resources
Open Sources for Primary Research - Resources from the Open Sources for Primary Research workshop.
Open Education Resources - Open Education encompasses resources, tools and practices that are free of legal, financial and technical barriers and can be fully used, shared and adapted in the digital environment.
Digital Public Library of America (DPLA) - A brief introduction to the DPLA, its utility, and its potential.
HathiTrust - The HathiTrust is a partnership of libraries and other research institutions devoted to digitizing and preserving their collections and making them available online.
Google Scholar - A guide to making the most out of Google Scholar.
---
Top Guides for Online Programs
Business - Get started with various business topics.
Criminal Justice - Research, resources, and information.
Education - Resources for education research.
Information Technology - Designed to provide an overview of the resources for students in the Information Technology program.
Social Work - Resources to help you get started in researching social work.
Information Science - Intended to assist students in the Library and Information Sciences field with their research and professional pursuits.