Don't stress about being stuck at home with finals! The libraries have put together some virtual activities inspired by Avatar the Last Airbender and Legend of Korra for you to participate in. Find out which nation you hail from, how to make cool rock candy at home, and more! Check out our list of activities below and how you can play along!
Activities To Do
This list features online activities created by the library and fun things you can do at home!
Engage on Social Media
Interested in engaging with us on social media? Check out this list of ways you can participate on Facebook
Screenshot & Share Your ATLA Faves
Screenshot and share your Avatar the Last Airbender faves using this cool template and fun gifs! Check out @FSULibraries on Instagram to use these story frames.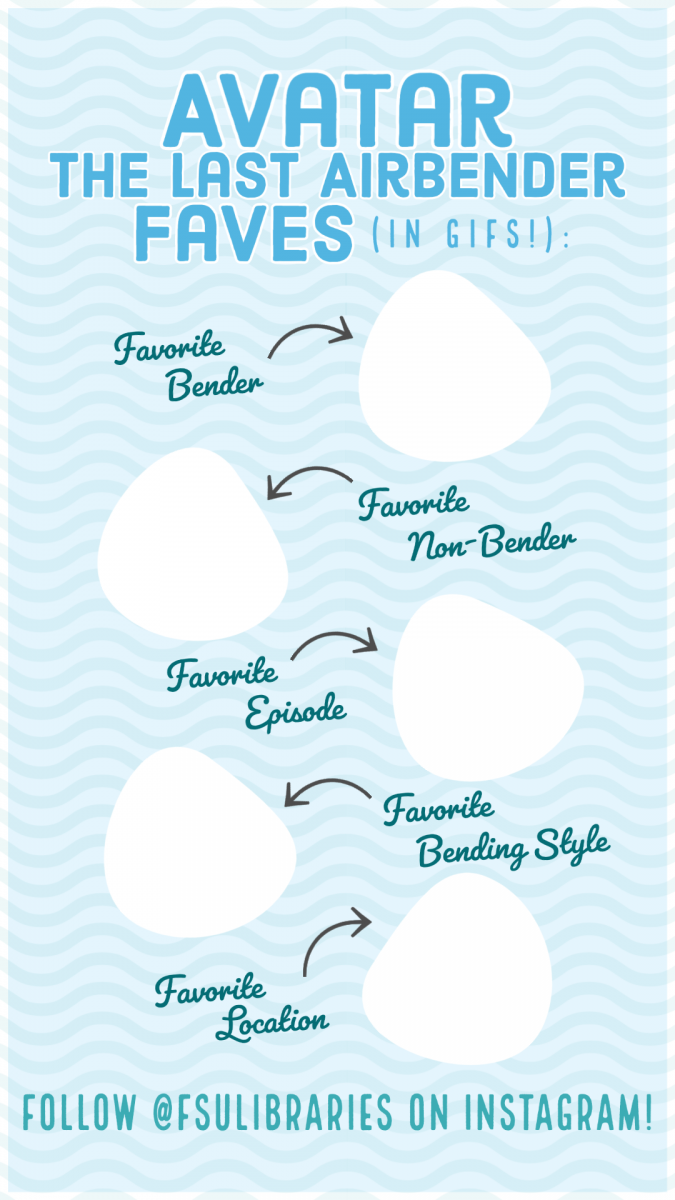 Which ATLA Nation Are You?
Screenshot, circle, and share which ATLA nation most aligns with your personality. Take our quiz above! Check out @FSULibraries on Instagram to use these story frames!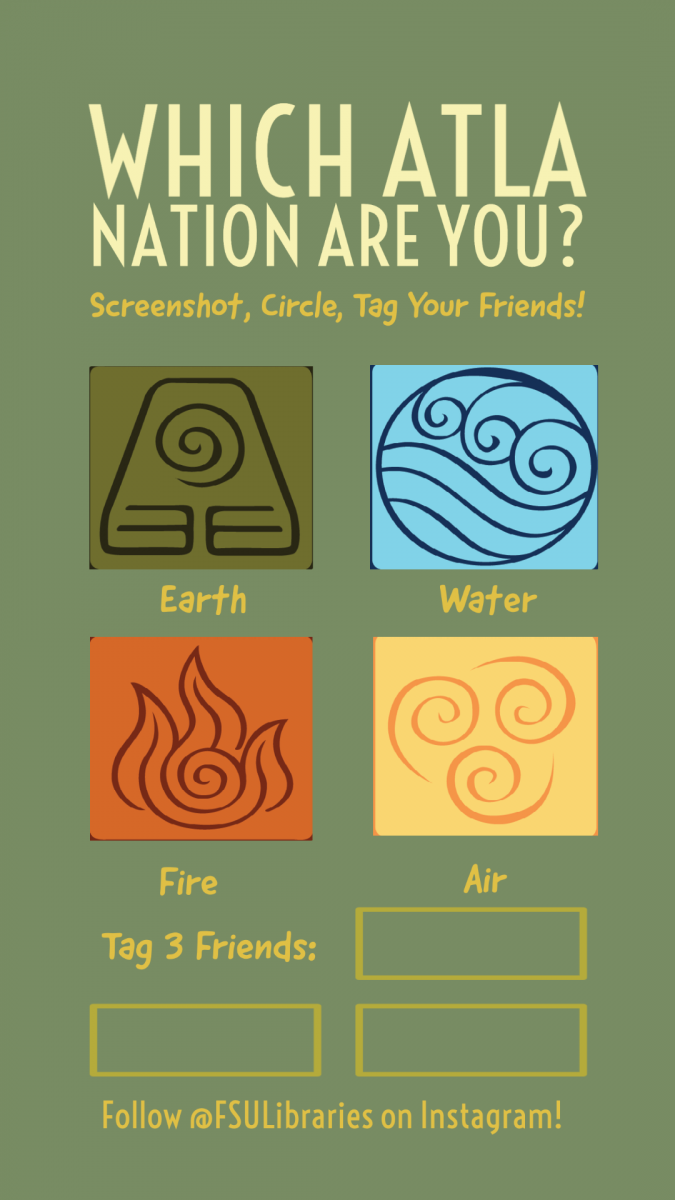 Fun Extras to Explore!
Feeling bored at home? We've got you covered with some fun links to check out based on your interests and other online programs our campus partners are doing!
FSU Libraries Has Your Back!
Worried about taking finals and need help studying or staying motivated? FSU Libraries have resources that can help! Check out our list below of options for tutoring, reference help, and more.

Virtual Backgrounds for Zoom
Download some fun Libraries virtual backgrounds to study with friends! Set up a Zoom call and study together as if you're in the library!
How To Set Up Study Space Infographic
Taking an exam at home can lead to distractions and low self-esteem. Use this infographic to make a space you feel comfortable working in! Click on the image for more info.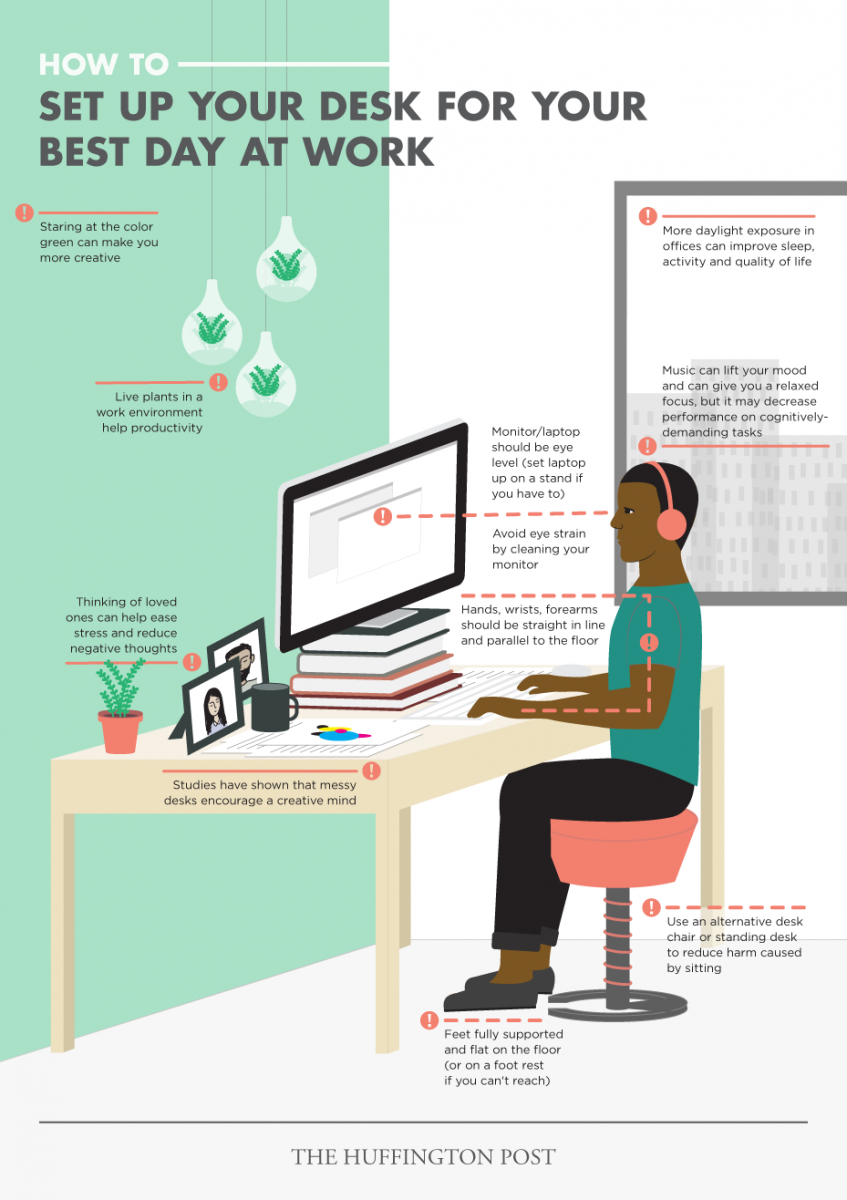 Library Tutoring
The Learning District has moved online, offering group tutoring sessions in STEM subjects from 8 pm until midnight, Sunday – Wednesday. Visit the FSU Libraries' website to learn about additional tutoring opportunities in humanities and modern languages courses.
Reference Help
The libraries offer a variety of options to assist with your research questions. If you'd like to schedule a virtual research consultation with a subject librarian, visit this page to select a librarian and put in your request. For on the spot research help, just click the Ask a Librarian chat box in the corner of your screen to connect with a library employee and get your questions answered! For other research help services, visit this page.
COVID-19 Specific Library Updates
With changes happening daily, the library is keeping you up-to-date on all of it's changes to services on this COVID-19 Updates page.