Don't stress about being stuck at home with finals! The libraries have put together some virtual activities inspired by Keanu Reeves for you to participate in. Play a virtual escape room, send us your best Keanu-inspired meme, and even play with virtual pets online for free! Check out our list of activities below and how you can play along!
Activities To Do
This list features online activities created by the library and fun things you can do at home!
Engage on Social Media
Interested in engaging with us on social media? Check out this list of ways you can participate on Facebook and Instagram.
What Do You Meme? Keanu Reeves Edition
Are you the meme King or Queen of your generation? Test out your skills by designing a hilarious meme featuring the beloved Keanu Reeves. To enter the competition visit this link to pick from our pre-selected images of Keanu, get helpful tips on designing awesome memes, and submit your entry!
The top two finalists will be selected by the library's outreach team and posted on FSU Libraries Instagram on Thursday, April 30 for everyone to vote on. The winner will be announced on the Friday of finals week!
*All submissions due by Wednesday, April 29th at 4pm*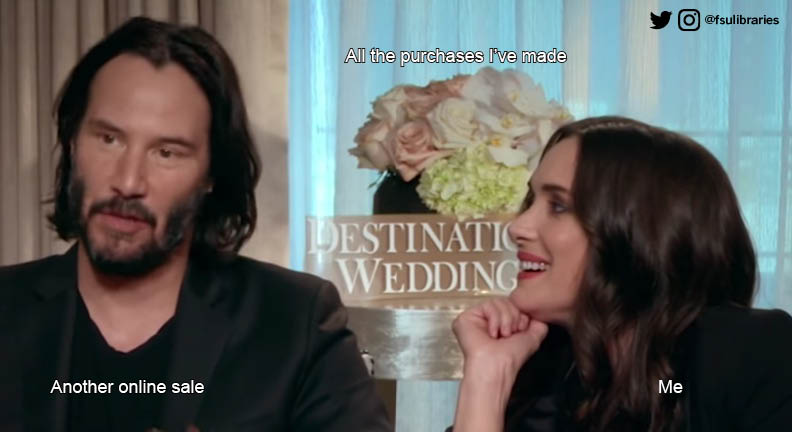 Fun Extras to Explore!
Feeling bored at home? We've got you covered with some fun links to check out based on your interests and other online programs our campus partners are doing!
FSU Libraries Has Your Back!
Worried about taking finals and need help studying or staying motivated? FSU Libraries have resources that can help! Check out our list below of options for tutoring, reference help, and more.