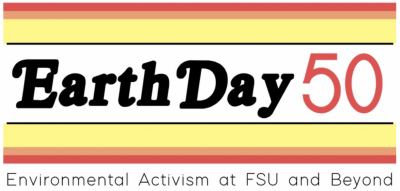 This exhibit was originally curated to be installed as a physical exhibit in the space maintained by Florida State University Special Collections & Archives in Strozier Library. The exhibit was to have opened in early April to coincide with Earth Month and to support programming for Sustainable Campus in celebration of the 50th anniversary of Earth Day. In mid-March as preparation was underway to install the exhibit, Florida State University moved all classes online and advised employees to work remotely to avoid the spread of covid-19. The physical exhibit is postponed but changing to a digital platform allows the story of Earth Day and environmental activism at FSU to continue to be shared.
2019
One Giant Leap: Remembering the Apollo 11 Mission 50 Years Later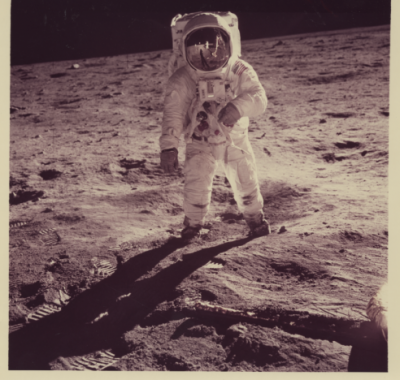 To commemorate and memorialize the 50th anniversary, the Claude Pepper Library will be hosting an exhibit on the Apollo 11 mission from July 16 to December 16, 2019. We will have on display numerous photographs, correspondence, and other materials related to the mission including a large photograph of Astronaut Buzz Aldrin standing next to the American flag planted on the moon's surface. The exhibit will consist of three thematic parts: earlier space programs in Florida, materials relating to the Apollo 11 landing, and FSU's reaction to the landing. Sample materials selected include photos of the crew with Florida governors and legislators, the poster for the mission, and additional correspondence about the impact of the mission on Florida's cultural memory.
A Century of Mystery and Intrigue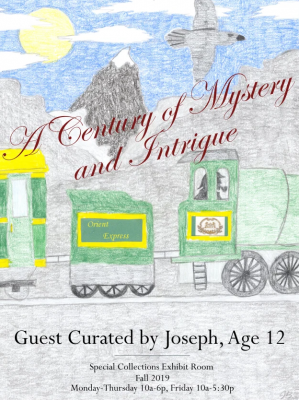 Another exhibit from our guest curator, Joseph, age 12, this exhibit explores the books in the collection focused on mystery. In this exhibit, there are many different subjects, among which are young detectives, classic detective novels, mystery in cinema, and mystery comic books. There is also a scavenger hunt featured in the exhibit as well as small clips from mystery movies.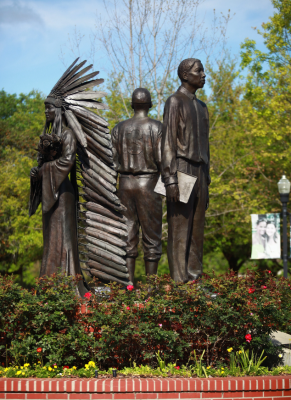 A new digital exhibit is now available, featuring information and documents that expand on the items currently on display in at the Heritage Museum in Dodd Hall. The exhibit is titled A University in Transition: The Long Path to Integration and focuses on the role of institutional racism in delaying state university integration. It also highlights acts of resistance by students, such as John Boardman, who was expelled for his active involvement with the black Inter-Civic council during and after the Tallahassee Bus Boycott.
2018
Poetry in Protest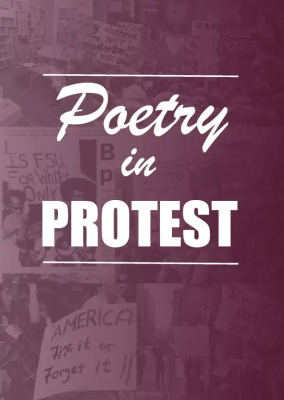 Poetry can be a powerful tool for eliciting emotion and is frequently used to express dissent or advocate for change. FSU Special Collections & Archives' latest exhibition, "Poetry in Protest," explores the genres, tactics, and voices of poets that write against the existing world and imagine societal revolution. As a means of delving into the subject, the exhibition begins with poet Michael Rothenberg's work in developing the global event 100 Thousand Poets for Change, where poets around the world read in support of "Peace, Justice, and Sustainability." While some of the materials on display are explicitly poetry responding to some aspect of the status quo, others are less direct in their means of protest. Poetry containing eroticism that is transgressive push back against societal norms of sex and love; works written in dialects or languages of the oppressed insist upon the existence of those voices in the world. The selections from FSU Libraries' Special Collections encompass nearly 2,500 years of poetical dissent, including Sappho, William Wordsworth, Gwendolyn Brooks, Allen Ginsberg, Amiri Baraka, Tupac Shakur, and many more. Materials from the Michael Rothenberg Collection are on display for the first time since their recent acquisition as well.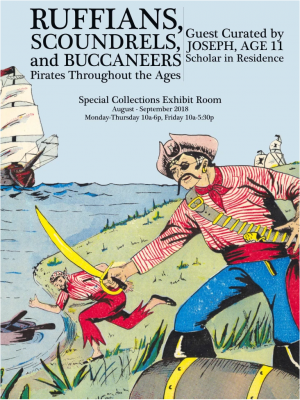 Ruffians, Scoundrels, and Buccaneers: Pirates Throughout the Ages
This exhibit features true accounts of historical pirates, as well as fictional stories. While fiction can be very entertaining, the truth about pirates is just as fascinating, although it's fun to see what people imagine about pirates too! Pirates are important to Florida as well – you can learn more about the story of José Gaspar, also known as Gasparilla, who operated in the Florida waters, and Ned Buntline, who wrote pirate stories set in Florida. We hope you now see why pirates are so awesome, and you come see all the great material in "Ruffians, Scoundrels, and Buccaneers," selected from the holdings of FSU Special Collections & Archives and Strozier Library. This exhibit is guest curated by Joseph, Special Collections & Archives Scholar in Residence, Age 11. For more information about the exhibit, see the Illuminations blog post.
What They Fought: Resistance to Integration and the Path to the 1956 Tallahassee Bus Boycott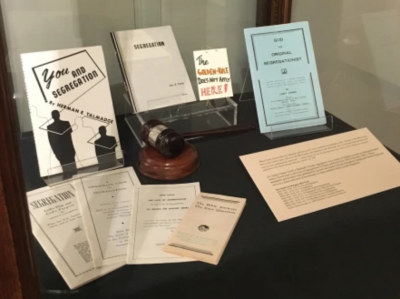 A new exhibit now open at the Claude Pepper Library seeks to illustrate the kind of resistance that the Tallahassee Bus Boycott participants faced in their endeavors to secure fair and impartial treatment in a city that they too, called home. Guests are invited to visit the Claude Pepper Library and explore the exhibit on the Tallahassee Bus Boycott of 1956 which is open to the public through the early fall of 2018. Using primary source documents, ephemera and photographs that provide a deeper context for the events that began to take place in May of 1956, Special Collections & Archives provides a look into the social and political climate in the State of Florida leading during the time of the Bus Boycott. Guests are also able to listen to audio recordings of boycott participants and witnesses, including the Reverend C.K. Steele, Daniel Speed and Governor LeRoy Collins.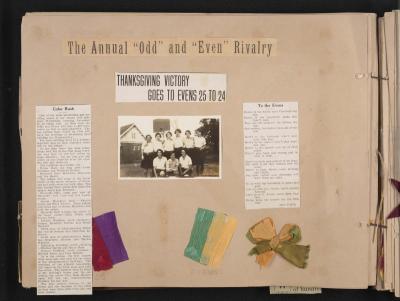 Florida State: Traditions through the Eras is an exhibit that traces back some of Florida State University's most well-known traditions through the institution's long history. What we now know as FSU has gone through many changes over the years: beginning as the Seminary West of the Suwannee River, then the Florida State College, Florida State College for Women, and finally Florida State University. Many of the symbols and practices we know today, like the school colors or the university seal, have been carried over through these iterations, evolving with the institution itself. An online exhibit is also available.
This digital exhibit was put together by Dylan Dunn as part of his graduate assistantship with FSU Special Collections & Archives. The physical version of this exhibit was located at the Florida State University Heritage Museum within Dodd Hall.The materials displayed there were chosen in collaboration with The Women for FSU society. As part of their Backstage Pass program, members got a hands-on look at a wide variety of materials and picked out the objects that most interested them.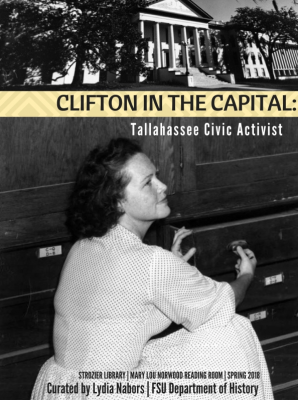 Guests are invited to the Norwood Room to explore the life works of Clifton Van Brunt Lewis, a local activist in the Tallahassee civil rights movement who championed for equality, pushed for historic preservation and founded many of Tallahassee's beloved cultural institutions, including LeMoyne Center for the Arts, Tallahassee Museum, and the Spring House Institute. Clifton and her husband George Lewis II supported student protestors during the lunch counter sit-ins and theatre demonstrations, as well as worked on interracial committees such as the Tallahassee Association for Good Government and the Tallahassee Council on Human Relations. Clifton established "The Little Gallery" in the lobby of the Lewis State Bank, showcasing both white and black artists in a rotating display. She stayed active until the very end, pushing for equal rights, environmental protection, and art and beauty for everyone. An online exhibit to compliment the physical displays is available.
In his "Great Shadow": Robert Burns' Legacy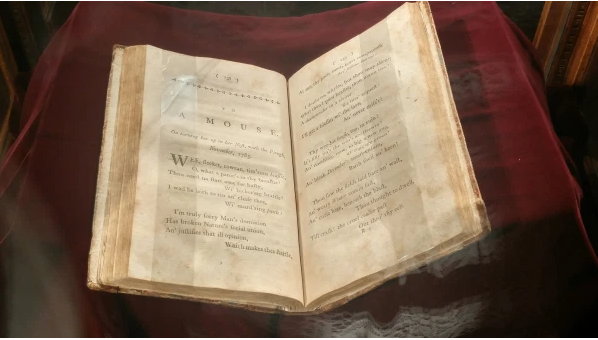 Robert Burns' ability to spontaneously produce musical and poignant verse earned him the title of "Scotland's Bard," and ensured that his legacy would remain especially close to that nation's people and their descendants. FSU Special Collections' exhibit, "In his 'Great Shadow': Robert Burns' Legacy," explores not only the lyrical finesse that led to our remembrance of him, but especially how he is remembered. Items created by Burns Clubs for memorial celebrations evince the long history of social responses to Burns' greatness; drawing on the Scottish and John McKay Shaw Collections, the exhibit especially highlights the tradition of Burns Suppers, which are still celebrated around the world. Like memorial celebrations, poetic homages to Burns began almost at the moment of his death. This exhibit explores these poetic echoes, from Sir Walter Scott to current Scottish poet laureate Jackie Kay. Experience firsthand the social and poetic legacies of Burns -- what Keats called "his Great Shadow" -- through beautiful historical items from FSU's Special Collections.
2017
The Age of Experience: We Tell Better Stories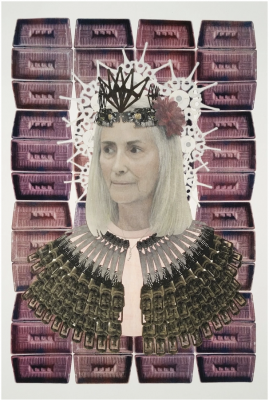 An exhibition of new work by Amy Fleming, The Age of Experience: We Tell Better Stories, is coming to the Claude Pepper Museum. The exhibition runs from December 1, 2017, to January 19, 2018.The exhibition is funded by a grant from Puffin Foundation Ltd. The Puffin Foundation provides grants to artists whose work addresses social issues, or who may be excluded from mainstream opportunities due to race, gender, or social philosophy. This exhibition works to change the narrative around the way we discuss aging by focusing attention on the many vibrant members of our elder community. Ageism is a byproduct of a hyperconsumerist mindset: the disposability of mass-produced goods, the replacement of "old" with "new" without regard to quality or continued usefulness feeds into this attitude. In The Age of Experience: We Tell Better Stories, images of mass-produced discards find new life as impossible robes and royal collars made from pump valves and vacuum tubes, pull tab rings reappear as chain mail, soda bottles form crowns and halos.