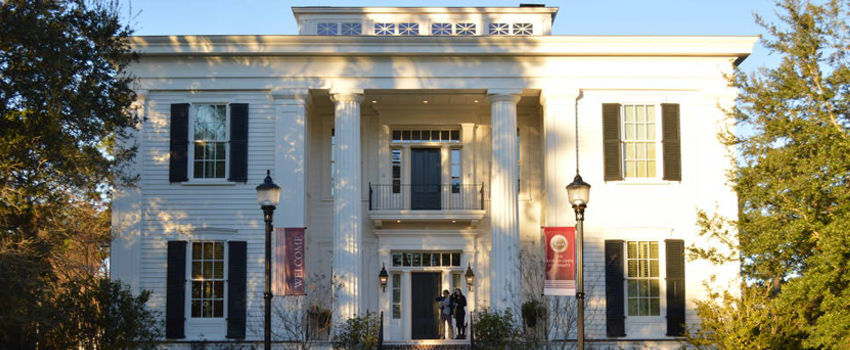 Faculty receiving tenure at Florida State University now have a lasting legacy included in the collection of the University Libraries. Each year, members of the new class of tenured faculty will hand-pick an item for the Libraries in a subject area of their choosing. These new library holdings will bear a bookplate inscribed with the faculty member's name, department, and the year. In addition, the faculty members are asked to write a brief paragraph explaining why the book they selected is meaningful to them. This project will serve the dual purpose of honoring the achievement of earning tenure, while also helping to sustain the University Libraries' ongoing efforts to develop collections that support teaching, research, and intellectual inquiry.
Celebration of Newly Tenured Faculty Archives by Year
2021
2020
2019
2018
2017
2016
2015
2014
2013
2012
2011
---
2022 Newly Tenured Faculty
Below are the newly tenured faculty and a brief explanation of the books or materials they hand-picked to be purchased and book plated in their honor.
Gregg Stanwood, Biomedical Sciences
Projections: A Story of Human Emotions by Karl Disseroth
It is so easy for biological and biomedical researchers to get caught up in molecular mechanisms and new technologies. And we need those things to understand the brain. After all, the brain is the only organ we use to understand that exact same organ - it's extraordinarily complex. So it's important to always stay rooted in why we need to have scientific understanding - and that is to help people better understand themselves... their thoughts, their emotions, their strengths and weaknesses. Dr. Karl Deisseroth has helped invent technologies that have revolutionized neuroscience. But he does this work to help his patients, and ease suffering. And he keeps seeing and treating patients, to ensure that he does not lose sight of this. This remarkable book spans all of these areas. I hope it keeps us focused on how we can help the human spirit and experience, and I expect that it will excite and inspire future scientists and doctors.
Andrew Rassweiler, Biological Sciences
The Reef Set: Reef Fish, Reef Creature and Reef Coral (3 volumes) by Paul Humann
The first step in every young field biologist's journey into a new ecosystem is to learn the creatures that are present there. These books were my first window into coral reef biology and still the definitive field guide serving the next generation of marine biologists.
Michael H. Cortez, Biological Science
Dynamic Models in Biology by Stephen P. Ellner & John G. Guckenheimer
The authors of this text, Stephen P. Ellner and John G. Guckenheimer, were two of my mentors in graduate school. The training and guidance I received from them has profoundly affected my career and approach to doing science. This text presents an important part of the training I received on how mathematical theory can be developed and applied in order to study and understand biological systems. It shows how mathematics offers many powerful tools that can help shape and guide our thinking about dynamic biological processes.
Mostafa Papi, School of Teacher Education
Beyond Pleasure and Pain: How Motivation Works by E. Tory Higgins
I have studied motivation for the last 14 years and there is no book that has been able to put in a meaningful perspective the intricacies of how various motivations work and lead to different outcomes than Higgins's (2012) book on this multifaceted phenomenon. I enjoyed and learned a lot from this book and I hope you enjoy it as well.
Phil Hiver, School of Teacher Education
Complex Systems and Applied Linguistics by Diane Larsen-Freeman and Lynne Cameron
Over 10 years ago in graduate school, I was introduced to a book that changed the way I see the world as a social scientist and educator. That book was Complex Systems and Applied Linguistics. I suspect that I was not the only one to have my mind blown by this book because this field-specific overview of complex systems/dynamic systems theory has since been ranked among the most impactful books in applied linguistics. For practitioners and researchers alike, it may seem like these ideas are now de rigueur or central to our understanding, but this was certainly not the case when this book was introduced to the field. By reconceptualizing language learning and development in a more situated and dynamic way, this complex systems perspective forged new paths in our field and has been profoundly influential for both established and emerging scholars alike. I think it was the artist W.M. Hunt who once said "you can't do great things unless you've seen great examples." For me, this book was that great example, and it has helped countless educators and researchers build bridges between established intellectual spaces of the field and the concepts, theories, and research methods shaping its future.
Laura Steacy, School of Teacher Education
Reading Acquisition, Ed. by Philip B. Gough, Linnea C. Ehri, and Rebecca Treiman
As a former teacher, I am interested in the underlying processes involved in reading development and how best to support all students learning to read. I read the chapter authored by Charles Perfetti in this book as a first-year doctoral student and it continues to impact my work to this day. The ideas and theoretical perspectives offered in this book have shaped my thinking about reading development and the underlying mechanisms involved in learning to read. The editors and authors featured here have contributed to the theoretical foundations of my work and these ideas continue to impact my research on identification and instructional techniques for students who have and are at-risk for reading disabilities.
Tingyu Zhou, Risk Management/Insurance, Real Estate & Legal Studies
The Engaged Scholar: Expanding the Impact of Academic Research in Today's World by Andrew J. Hoffman
I would like to recommend this book to all academic scholars. There are so many limitations of the academic reward system. For example, most universities, colleges, and departments have a list of so-called "A journals," which tend to be extremely competitive and might target only a limited group of audience. Scholars are evaluated by the number of publications, citation counts, grants, etc. Perhaps we should reconsider other new measures of impact, improve our connection to the public and private sectors, and make our work more easily accessible to the general public. This book inspires me to reexamine why I chose to become a university professor and how I can add value to my field and the real world.
Daniel A. Broxterman, Risk Management/Insurance, Real Estate and Legal Studies
Economics of Crime and Enforcement by Anthony M. Yezer
I place this book in honor of my dissertation adviser, Anthony M. Yezer. My achievement of tenure comes in his 50th year in academia. A true scholar and believer in the discipline of economics, I will forever be Tony's student. May this placement symbolize my immense gratitude for his guidance and support.
Guanyi Lu, Business Analytics, Information Systems and Supply Chain
Horacio E. Rousseau, Management
Collected Fictions by Jorge Luis Borges
Jorge Luis Borges (1899-1986) is Argentina's best and most imaginative writer. His work is a reminder of the universal appeal of domestic characters and a call for excellence in a lifetime.
Samuel Ballas, Mathematics
Foundations of Hyperbolic Manifolds by John Ratcliffe
This was the first book my advisor (Alan Reid) suggested that I read after we began working together. When I first read it, I was a bit overwhelmed by many of the details, but all of the sudden I got to the section on the deformation theory of hyperbolic surfaces and was amazed that there was a space that encoded all the possible hyperbolic metrics on a surface. It was very amazing to see how moving around in this space corresponds to stretching and twisting the surface. Many of these ideas still motivate much of my work even to this day.
Ted Kolberg, Physics
Image and Logic: A Material Culture of Microphysics by Peter Galison
This book contains a wealth of historical material that will enrich the perspective of anyone doing what Galison calls 'microphysics.' As a practicing particle physicist, I think of this book often while conducting my own research.
Rachel Yohay, Physics
Nobel Dreams: Power, Deceit, and the Ultimate Experiment by Gary Taubes
When I arrived at CERN as a graduate student in 2008, on the eve of the startup of the Large Hadron Collider, I picked up this intimate tale of the personalities involved in the discovery of the W and Z bosons at CERN in the 1980s. A quarter century later, the experimental issues, data analysis techniques, petty politics, and everyday highs and lows of working in a large collaboration detailed in the book felt incredibly familiar. The Compact Muon Solenoid detector design could trace its roots all the way back to UA1, the groundbreaking detector whose creators were the focus of this book, and some of the bit players in the book were now senior scientists holding major leadership roles in the LHC project. Since my tenure case, and indeed my entire career thus far, have been built on research using the CMS detector at the LHC, it seems fitting to recognize this honest (and not altogether flattering!) account of my scientific forebears that shaped my thinking as I began my own foray into collider physics.
Derek Evan Nee, Psychology
On Task: How Our Brain Gets Things Done by David Badre
This book describes the practical importance of my primary research domain - cognitive control. It shows how cognitive control is paramount to intelligent behavior, underscoring the importance of understanding its mechanistic basis, how it is affected by brain dysfunction, and how it can be improved. The author, Dr. Badre, has been an inspiration for my research throughout my career, and I am delighted to honor his impact by featuring his book.
Aaron Wilber, Psychology
Human Spatial Navigation by Arne D. Eckstrom, et al. 
I conduct animal research but have a strong interest in the translational impact of that work in humans. This book aligns nicely with this research perspective within the context of my field of spatial navigation.
Jessica Diana Ribeiro, Psychology
Jonathan Gene Kimmes, Human Development and Family Science
Tarik Dogru (Dr. True), Dedman College of Hospitality
Bitcoin: A Peer-to-Peer Electronic Cash System by Satoshi Nakamoto
Freedom is the most valuable asset in life. I believe freedom is the main reason the United States is the best country on earth. Our ancestors fought for freedom very hard and it is in our DNAs, we are coded to fight for our freedom, freedom of speech and equal rights. We have solved a lot of problems and made progress in many aspects of life. One and I think very, if not the most important mechanism that is lagging behind is preserving the value we create across time and space. Bitcoin offers a very promising solution to this very fundamental problem that allows people to preserve and transfer the value they create across time and space.
Srikantsharma Manchiraju, Moran College of Entrepreneurship
Tian Tang, School of Public Administration
Viet Tung Hoang, Computer Science
Mathematics and Plausible Reasoning by George Polya
This is the book that helped me to realize beauty in mathematical proofs, and to understand and appreciate the art of problem solving. It inspired me to dedicate my life to mathematics and teaching.
Kelly Farquaharson, Communication Science and Disorders
Speech Sound Disorders in Children Articulation & Phonological Disorders, Ninth Edition by John Bernthal, Nicholas Bankson, and Peter Flipsen
Dr. John Bernthal was one of my PhD advisors at the University of Nebraska-Lincoln. When I considered a PhD, John was the first person that I emailed - that email truly changed the trajectory of my life. Working with Dr. Bernthal - who is considered a pioneer in the field of speech-language pathology - was an experience I will treasure. In 2013, John invited me to write the Instructor's Manual that accompanies this text book. This was such an important writing and learning experience for me. I have continued to update that manual for the 8th and now 9th editions. Dr. Bernthal died in July 2021, so I was not able to share with him that I earned tenure. I'm grateful for the opportunity to memorialize his profound contributions to the field, and to my life, in this way.
Sana Tibi, Communication Science and Disorders
Assessing and Differentiating Reading and Writing Disorders: Multidimensional Model by Linda J. Lombardino
The book I chose is "Assessing and Differentiating Reading and Writing Disorders: Multidimensional Model'' by Professor Linda J. Lombardino. I find this book an excellent resource for graduate students and practitioners (educators and speech-language pathologists), as well as researchers and graduate instructors. It combines a theoretical and research-based framework that today is commonly referred to as "the science of reading" in guiding practitioners. It uses a historical perspective, through a differential diagnosis scheme, for understanding the nature of various types of reading and writing disorders. One of the key features of this book is that it highlights the multidimensional nature of reading and writing difficulties. Moreover, it includes actual assessment protocols and intervention plans for children who have reading and writing difficulties, which sets this book apart from many others. I have read hundreds of research articles and many books over the past three decades as part of my academic preparation and professional development, but I still find this book to be my favorite because it is based on science, includes applications of the scientific theories, and provides extensive assessment protocols and procedures for developing profiles of strengths and weaknesses in struggling readers. Although published a decade ago, it remains timely and comprehensive. In sum, this book has been instrumental to teaching and practice in the area of literacy for me and many others.
Maximilian Miguel Scholz, History
Reformations: The Early Modern World, 1450-1650 by Carlos M. N. Eire
When I was an eighteen-year-old college student, I enrolled in a history lecture led by Carlos Eire. The course was title "The Reformation," and it inspired me to study the history of religion professionally. When did Christianity become modern? What separates Catholics from Protestants? Dr. Eire answered these questions in his class, and--unbeknownst to me--he was using his experiences teaching students to craft a new, paradigm-shifting study of the Reformation. His transformative book captures his brilliance as an author and continues to inspire me to study the history of religion. I hope Floridians get the chance to read and enjoy this book.
Michael Thrasher, College of Music
Biblical Perspectives on Leadership and Organizations by J. Lee. Whittington
I am very interested in the literature on leadership development, and I have found J. Lee's writing to be immensely compelling. His definition of leadership resonates with me: "Leadership is intentional influence that takes place in the context of a relationship" (page 51). The application of Biblical, moral, ethical principles in the realm of contemporary leadership creates environments conducive to the health, well-being and vibrancy of our varied organizations. In my leadership, I strive towards ethical behaviors that strengthen and serve our stakeholders. 
Kevin D. Jones, DMA, College of Music
Connecting Chords with Linear Harmony by Bert Ligon
Bert Ligon was one of my first jazz professors. I then became his colleague at an institution and am very grateful to consider him a mentor and friend.
Rachel Lumsden, College of Music
Feminine Endings: Music, Gender, and Sexuality by Susan McClary
Most monographs offer something new and innovative, some create shockwaves, but only a few fundamentally change the shape of their discipline for years to come. "Feminine Endings" is one of those books. In this small and seemingly innocuous volume, written more than thirty years ago, Susan McClary dared to do something that no one had ever done before: entwine feminist theory, music history, and music analysis. The result is, quite simply, astonishing. My favorite aspects of this book are its broad scope (from Monteverdi madrigals to pop songs); its accessible, engaging prose; and its interdisciplinary music analyses, which combine close readings of musical works with rich cultural and historical contexts. "Feminine Endings" caused quite a controversy when it was first published in 1991 (and is still considered controversial by some today), but it has inspired more than thirty years of scholarship about feminism and sexuality in music. It is a book that was utterly ahead of its time. My research would probably not be possible without "Feminine Endings". I treasure it dearly, and re-read it often for inspiration.
Christina Marie Parker-Flynn, English
The Original Copy: Photography of Sculpture, 1839 to Today by Roxana Marcoci, Tobia Bezzola, and Geoffrey Batchen  
In 2010, I was fortunate enough to visit The Original Copy exhibit at the Museum of Modern Art in New York while finishing my Ph.D. dissertation; the exhibit and this representative book helped me crystallize my own project's intervention into shifts and interrelationships between aesthetic mediums. It is an elegant art book that continues to offer inspiration in terms of my research and teaching at the intersection of ancient art and modern, photographic impulses, as well as the sculptural foundations and impulses of film.
Lance Cooley, Mechanical Engineering
Fermilab at 50 by Swapan Chattopadhyay (Fermilab) and Joseph David Lykken (Fermilab)
When I made decisions about college, Fermilab was in the middle of its initial runs that eventually led to the discovery of the Top Quark and dreams of the Higgs Particle. That backdrop steered my path as first a physics major at U Chicago and later, with the opportunity to develop superconducting wires for Fermilab magnets, through graduate school at Wisconsin. This 50-year celebration book highlights the wonder of curiosity and discovery and the marvel of building some of the largest machines humankind has ever imagined.
Nicole Ennis, Behavior Science and Social Medicine
Wherever You Go, There You Are by Jon Kabat-Zinn
"Vincit qui se vincit" (She conquers who conquers herself) is the motto of my high school, The Philadelphia High School for Girls. Without fully knowing it during my teenage years I internalized this aspirational principle of self-mastery. I discovered Wherever You Go There You Are in my early twenties. In this book Kabat-Zinn presents a simple discipline. This simple discipline has enabled me to cultivate awareness, increase my curiosity, ask the hard questions, accept the answers and move on to the next question. As a behavioral science researcher this has not only helped propel me forward in my career when I am stuck; but it has also enabled me to slow down and challenge myself when I think I know the answer which has made me a better scientist.
Allison A. Wing, Earth, Ocean and Atmospheric Sciences
Divine Wind: The History and Science of Hurricanes by Kerry Emanuel
I first read Divine Wind as a rising junior in college to gain an introduction to the science of hurricanes, while I was a summer intern researching hurricane intensity. That research experience convinced me that I wanted to pursue a career in atmospheric science research, and that I wanted to study hurricanes. This led me to MIT, where I completed my PhD under the advisement of the author of Divine Wind, Prof. Kerry Emanuel. Through its description of both the profound effects that hurricanes have on humanity and the fascinating physics behind them, this book exemplifies both why I study hurricanes and why Prof. Emanuel is one of the world's most renowned and respected scientists. He elegantly interweaves an exceptionally clear and accessible overview of the science of hurricanes much of which he developed" with historical descriptions, stunning photographs, and works of art and literature. I treasure my signed copy and recommend this book to anyone fascinated by nature's most powerful storms.
Cecilia Chouhy, College of Criminology and Criminal Justice
Great American City: Chicago and the Enduring Neighborhood Effect by Robert J. Sampson
Sampson's book condenses an important part of his research trajectory studying neighborhood effects. This work guided my dissertation research and my early years as a scholar. It inspired me to think deeply about how neighborhoods shape individuals' trajectories and are shaped by multiple micro- and macro-level social forces. These are central topics in my own research. This is a book I keep close and revisit often. Every new read brings a new set of insights and questions.
Marin R. Wenger, College of Criminology and Criminal Justice
Divergent Social Worlds: Neighborhood Crime and the Racial-Spatial Divide by Ruth D. Peterson and Lauren J. Krivo
So much of what we are exposed to and what we experience throughout our lives is shaped by where we live and have lived. But there is extreme racial disparity in the types of communities in which we live in and as such, extreme racial disparity in the social environments we have access to. These 'divergent social worlds' are the point of departure for Peterson and Krivo's work. By collecting and analyzing social, economic, housing, and crime data from nearly 10,000 neighborhoods across 91 large U.S. cities, Peterson and Krivo are able to show that while crime rates appear to correlate with racial composition, this association is driven by the extreme disparity in economic conditions between white neighborhoods and neighborhoods predominantly composed of Black, Latino, and other nonwhite racial and ethnic group residents. I selected Divergent Social Worlds because much of my own research and teaching focuses on the importance of communities and macro-structural context for understanding crime and other social behavior and their approach to studying community context was the jumping off point for my research agenda.
Michael Killian, College of Social Work
A Man Without a Country by Kurt Vonnegut
Plenty of textbooks on topics of social work research, pediatric health and psychology, and statistical approaches to prediction of outcomes have shaped my academic and scholarly career. It would be easy enough to pick one of many of these books to place in the FSU Libraries catalog. Instead, I wanted to choose this book that is an honest, satirical, humorous, and ultimately bittersweet account of how we care for one another, what we are here to do, and how we move forward together. These collections of essays and short stories remind me of the importance of each of these. "We are here to help each other get through this thing, whatever it is."
Lauren Henry Scholz, College of Law
Unpopular Privacy: What Must We Hide? by Anita Allen
Hadi Mohammadigoushki, Chemical Engineering 
The Structure and Rheology of Complex Fluids by Ronald G. Larson
The first time that I saw this book, I was an undergraduate student who was fascinated by the field of fluid mechanics and rheology. This book has made it even more clear to me that I want to study these "complex fluids" for various applications. I continued my higher education in this field and now am researching in the area of flow and rheology of complex fluids.
James Harrison Frederich, Chemistry and Biochemistry 
Laurie Abbot, College of Nursing
Rural Populations and Health: Determinants, Disparities, and Solutions by Richard A. Crosby, Monica L. Wendel, Robin C. Vanderpool, and Baretta R. Casey
The book titled Rural Populations and Health: Determinants, Disparities, and Solutions was chosen because it provides a useful resource for students and faculty from a variety of disciplines including nursing, public health, medicine, and sociology. The first chapters include an overview of rural health using a social disparities framework that provides a theoretical and evidence-based rationale for mitigating rural health disparities in the United States. The following chapters present a comprehensive examination of rural health issues and health care services as well as strategies to potentially reduce disparities, build capacity and collaboration, and implement prevention research. The concepts discussed in the book can facilitate understanding the intricacies of the rural context and reasons for disparities and differences in outcomes that may not be easily understood at face value. It also does more than just present the problems by offering suggestions that are feasible in real-world settings. Delving deeper into the layers of the impact of rurality on health has been extremely helpful in my research that has focused on promoting health and reducing disease risk in rural populations, and I wish to share this gem of a book with others having similar interests.