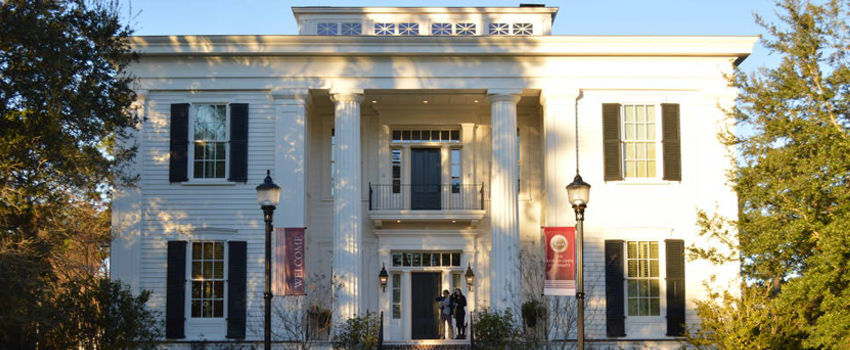 Faculty receiving tenure at Florida State University now have a lasting legacy included in the collection of the University Libraries. Each year, members of the new class of tenured faculty will hand-pick an item for the Libraries in a subject area of their choosing. These new library holdings will bear a bookplate inscribed with the faculty member's name, department, and the year. In addition, the faculty members are asked to write a brief paragraph explaining why the book they selected is meaningful to them. This project will serve the dual purpose of honoring the achievement of earning tenure, while also helping to sustain the University Libraries' ongoing efforts to develop collections that support teaching, research, and intellectual inquiry.
Celebration of Newly Tenured Faculty Archives by Year
2019
2018
2017
2016
2015
2014
2013
2012
2011
---
2020 Newly Tenured Faculty
Below are the newly tenured faculty and a brief explanation of the books or materials they hand-picked to be purchased and book plated in their honor.
Andrea L. Meltzer
The Evolutionary Biology of Human Female Sexuality by Randy Thornhill and Steven W. Gangestad
 
This book, written by evolutionary biologist Randy Thornhill and evolutionary psychologist Steven Gangestad, was published during my second year of graduate school. In short, it changed the course of my academic career. In this book, Thornhill and Gangestad provide a new theoretical perspective regarding the evolution of human female sexuality, and in doing so they highlight how aspects of women's estrus impact both their short-term sexual relationships and their long-term pair bonding. As a budding relationship scientist, this book opened my eyes to theoretical perspectives that had been (at least at that point in time) frequently overlooked in relationship science—specifically, evolutionary perspectives. By reading this book, I learned that drawing from other scientific perspectives to inform one's own field can help scientists to develop novel research questions that can notably advance our broader understanding of human behavior. In much of my own research, due in part to the impact that this book had on me, I now draw heavily upon evolutionary perspectives to better understand long-term romantic relationship development and maintenance.
Jeremy Owens
The Phanerozoic Carbon Cycle: CO₂ and O₂ by Robert Berner
 
The work of Robert Berner has been influential throughout my research and career path which is largely encompassed in this book. It provided the first evidence and connections with ancient climatic variations throughout Earth history. This documented the importance and connection of the global carbon and oxygen cycles which is a large reason that I know study marine oxygenation during major carbon and climatic perturbations throughout the Phanerozoic. This book continues to shape my groups research direction and we hope to add to this scientific body of work.
Justin G. Kennemur
Principles of Polymerization, 4th Ed., by George Odian
 
Principles of Polymerization has been the prevailing textbook for bridging the subjects of physical and organic chemistry by which polymer molecules are synthesized. For me, this book has been a staple within my library and a critical component to my development as a polymer chemist. Although this book is honoring a milestone within my own career, its choice is bitter-sweet due to the recent passing of Prof. George Odian on December 22, 2019. Therefore, I have used this opportunity to honor Prof. Odian, a brilliant polymer chemist and dedicated educator. While 2020 marks the year of my tenure promotion, it also happens to be the centennial anniversary of macromolecules. In 1920, Hermann Staudinger (Nobel Prize 1953) published a gutsy article which he entitled "Über Polymerisation". In this article he first describes his hypothesis that organic materials, such as rubbers, plastics, starches, proteins, and cellulose, were comprised of large covalently bonded macromolecules. This idea contradicted many prevailing theories by established scientists and Staudinger faced an uphill battle of criticism and ridicule by his peers. Nevertheless, the next several decades would prove his hypothesis to be true. This story is a testament to the need to think fearlessly and outside-the-box. It is precisely the spirit embodied and protected by the award of tenure. I look forward to being a part of the next century of discoveries in polymer science and mentoring the next generations of scholars.
Lyndsay N. Jenkins
Professor Mommy: Finding Work-Family Balance in Academia
 
I have chosen the book "Professor Mommy" because its title captures two important identities in my life. I'm a mother to three young girls, currently ages 11, 9, and 5, and I am also an academic. Though data have shown that women with children are much less likely to earn tenure, these authors want women to see success stories and show that it is possible to beat the odds stacked against them. With the support of my husband (and a bit of my own stubbornness), I had two children during graduate school and another child early in my tenure-track position.  My academic career and my children are thriving simultaneously and that is something for which I feel very blessed.
Jillian J. Turanovic
Overcoming the Odds: High Risk Children from Birth to Adulthood, by Emme E. Werner and Ruth S. Smith
 
Overcoming the Odds looks closely at the lives of men and women born on the Hawaiian island of Kauai who were followed from birth through early adulthood by psychologists, pediatricians, public health professionals, and social workers. Werner and Smith take a special interest in those high-risk children who, in spite of exposure to high levels of adversity, go on to develop healthy personalities, stable careers, and strong interpersonal relationships. Much of my research focuses on identifying the processes and protective factors that explain why some individuals fare better than others in response to traumatic life events, such as victimization. The interdisciplinary approach taken by Werner and Smith—including their focus on how biological factors, family factors, psychological factors, and social supports shape risk, resilience, and recovery over the life course—has had a lasting impact on my own thinking and research.
Lingjiong Zhu
The Snowball: Warren Buffett and the Business of Life by Warren Buffett
 
After I got my PhD, I was working at an investment bank in New York. When the time came for me to decide whether I should stay in the bank or go back to academia, I thought about what Warren Buffett said "If you can't somehow find yourself very interested in something, I don't think you'll succeed very much, even if you're fairly smart...... You want to be excited when you get out of bed in the morning. I tap dance to work every day." That really changed my life. Working on Wall Street will certainly provide a decent salary, but doing academic research is what I am really passionate about. I have not regretted a bit about my decision to leave Wall Street and come back to academia. I have had a few wonderful years at FSU, and now I am happily tenured. At more than 900 pages, The Snowball, is the most comprehensive biography of Warren Buffett, known as the Oracle of Omaha. Warren Buffett is my idol and role model. I have followed his interviews and annual letters ever since my PhD days. What strikes me most is his ability to explain business or life philosophy in a very simple manner. He talks common sense. Anyone who reads the book will enjoy the timeless wisdom from the master.
Zhe He
Social Web and Health Research: Benefits, Limitations, and Best Practices, edited by Jiang Bian, Yi Guo, Zhe He, Xia Hu
 
This is my first edited book in my academic career. I had a chance to work with renowned experts around the world to present state-of-the-art research methods, results, and applications in social media and health research. This is an ideal book for biomedical researchers, clinicians, and health consumers who are interested in learning how social web platforms impact health and healthcare research.
Mariana Fuentes
The Biology of Sea Turtles, Volume III, edited by Jeanette Wyneken
 
This book focuses on how sea turtles operate in, adapt to, and are dependent upon features of their marine environment as well as highlights recent advances in sea turtle research. Together with Volumes I and II, this book is an indispensable tool to anyone in sea turtle research and conservation management. While at graduate school I eagerly read Volumes I and II and was honored to contribute to a chapter in Volume III.
Scott Burgess
The Atlas of Marine Invertebrate Larvae, edited by Young, Sewell & Rice
 
Marine invertebrate larvae are simply the most fascinating life forms on earth. These tiny larval stages are adapted to spend anywhere from hours to many months floating around in the water before metamorphosing into a completely different body form and resuming life on the seafloor as an adult. The diversity of larval form and intricate function, their anatomical complexity, and their importance to ecology, evolutionary biology, and developmental biology has inspired everything from understanding the evolutionary origins of animal diversity (including humans) to science fiction movies to poetry. This book contains a trove of information about the identity and characters of incredibly diverse larvae of marine invertebrates, stemming from careful observations made by many researchers.
Hui Wang
Stream of Variation Modeling and Analysis for Multistage Manufacturing Processes by Jan Shi
 
Prof. Shi, the author of this book, is an elected member of the US National Academy of Engineering, the highest academic honor that can be achieved in engineering careers. His book on variation modeling for automatic process control significantly broadens my vision of next-generation quality engineering and continuous improvement in modern manufacturing factories. In addition to theories, this book provides abundant real-world examples and case studies to illustrate the use of data analytics and applied mathematics to guide engineering practice and improve production quality at the reduced cost. Many of these examples are from Prof. Shi's successful project experiences with the US automotive industry, such as Ford and General Motors, that demonstrate how academic research is implemented for industry and generate huge profits. In addition, his philosophy of in-process quality improvement highly motivates my research that features the integration of data science and AI with field knowledge in engineering systems/processes to overcome the limitations of engineering simulations, experiments, and statistics. Following his road model, I have been selecting and identifying research topics with an emphasis on significant industry impacts. I can further extend my research philosophy to a wide range of applications beyond manufacturing, including healthcare service and energy systems. I highly recommend that every scholar in the field of industrial and systems engineering would consider reading this book.
Colleen Harmeling
Man's Search for Meaning by Viktor Frankl
So Hyun Park
Achieving a Healthy Weight for Your Child: An Action Plan for Families by Sandra G. Hassink
My research program focuses on childhood obesity prevention. The central goal of my research and scholarship is to improve health-related behaviors and weight-related outcomes for children. The family unit plays a critical role in shaping children's eating and physical activity patterns. This book provides guidance to help parents understand childhood obesity and take action to support their child's healthy nutrition and physical activity. I believe this book can serve as a nice reference for parents to improve their child's and family's health.
 
Miranda Waggoner
Conceiving Risk, Bearing Responsibility: Fetal Alcohol Syndrome & The Diagnosis of Moral Disorder by Elizabeth M. Armstrong
Early on in my graduate studies, a wise mentor gave me the advice to find a book I wish I had written. Then, my mentor said, you will have a very good idea of what kind of scholar you want to become. Conceiving Risk, Bearing Responsibility was that book for me. It examines the sociocultural history of fetal alcohol syndrome, combining insights from the history and sociology of medicine to show how the production of medical knowledge about alcohol and reproduction is intricately intertwined with prevailing moral beliefs about women's social standing. It is a brilliant and comprehensive book, in both analysis and argument. Moreover, the prose is exquisite, raising the bar for sociologists everywhere. Happily, I had the wonderful opportunity and unique pleasure of getting to work with the author of this book, Professor Betsy Armstrong, years after completing that helpful exercise prescribed by my graduate-school mentor. Dr. Armstrong's ongoing mentorship and friendship means so much to me, as both a scholar and a person, and my enduring professional goal is to produce work at the high level of scholarship that she exemplified with this remarkable book.
 
Luke Boosey
Handbook of Experimental Economic Methodology, edited by Guillaume R. Frechette and Andrew Schotter
I've selected this Handbook for two reasons. First, it collects in one place many key insights for the design of experiments in economics with a special focus on the relationship between experiments and economic theory. The contributions all come from highly esteemed researchers in my field - many of whom have shaped the foundations for my own research, which combines experimental work with applied economic theory. When I was an undergraduate student, I was first introduced to the idea of experimental economics through an article by Al Roth entitled "The Economist as Engineer: Game Theory, Experimentation, and Computation as Tools for Design Economics". It is fitting then, that the first chapter in this Handbook was contributed by Al Roth (now a Nobel laureate). Second, it's my hope that current and future graduate students will find this to be an especially useful reference as they navigate the growing field of experimental economics. Perhaps someone will draw inspiration from within this comprehensive collection of works, in the same way that Roth's article inspired me to pursue an academic career many years ago. 
Avlana K. Eisenberg
Little Women by Louisa May Alcott
For as long as I can remember, Little Women was one of my favorite books. I strongly identified with Jo March who, aside from being feisty and independent, was also a writer and a keen observer of detail. Jo described ordinary people in an extraordinary way, probing the depths of their emotions and imaginations while weaving narratives that have compelled readers (and viewers of the many movies, including Greta Gerwig's masterful film, which was the first movie I saw after receiving tenure) for more than 150 years. Louisa May Alcott's prose is so powerful because she is obsessed with the humanity of her characters—their raw emotions, foibles, insecurities, and the deep bonds that connect them. In my study of the individuals that make up the criminal justice system, and the institutional contexts in which they find themselves, I strive to tell their stories honestly and compellingly, never losing sight of their humanity and their individuality. In the classroom, I encourage students to contemplate the complexity of criminal law narratives, which run the gamut of human emotion and experience and challenge us to confront tensions between justice and mercy, and between the goals of the individual and those of the broader society. At their core, these are some of the fundamental questions of what it is to be human, and they transcend disciplines, from the study of 19th century family life to that of 21st century criminal law.
Jessica Lee Ridgway Clayton
Designing Apparel for Consumers: The Impact of Body Shape and Size, edited by Marie-Eve Faust and Serge Carrier
The interaction between clothing and the body is central to my research agenda. This book explores methods for identifying body shape and size, apparel fit, and psychological and sociological aspects of designing apparel. Importantly, this book has chapters dedicated to a variety of different demographic groups. It is rare to find a resource that discusses body shapes of infants, pregnant women, aging populations, obese consumers, and different ethnic groups. My hope is that this book will inspire young minds to think about clothing and the body in a very different way.
Xin "Henry" Zhang
R.A. Fisher: The Life of a Scientist by Joan Fisher Box
R. A. Fisher is the greatest statistician in 20th century. Fisher's notion of sufficiency is the inspiration for some of my work on sufficient dimension reduction. This book is the biography written by his daughter.
Malia Bruker
History and Memory: For Akiko and Takashige, a film by Rea Tajiri
History and Memory: For Akiko and Takashige is a groundbreaking work of documentary by Rea Tajiri. My time as Rea's student in the MFA film program at Temple University has had a long-lasting impact on my work, and I'm very grateful for Rea's insight and spirit. History and Memory is a poetic documentary about Rea's family's imprisonment in a Japanese internment camp in the 1940's, but it extends much beyond this personal story. It is celebrated for the complex ways that it weaves lines of inquiry: How can collective history tell such a different story from that of personal memory? What is lost in this slippage? How can we represent the past, given how little remains etched in memory and how much is recorded in the popular imagination? Rea's creative answers to these questions are varied and rich, and through them I've learned a great deal about how to use image and sound to express truths that are otherwise indescribable.
Lucinda J. Graven
Social Problem-Solving: Theory, Research, and Training by Edward C. Chang, PhD, Thomas J. D'Zurilla, PhD, and Lawrence J. Sanna, PhD
The Theory of Social Problem-Solving guides my research endeavors with heart failure patients and their family caregivers. Heart failure management is complex, and patients and families must navigate a variety of daily challenges in everyday life to promote and maintain optimal patient health. My initial descriptive research supported the need for problem-solving interventions with heart failure patients and their family caregivers. With support of my preliminary research and guided by the Theory of Social Problem-Solving, I developed and tested a problem-solving intervention for heart failure patients which showed improved disease management and reduced healthcare utilization. This book has been a key element in moving my research forward and guides principles utilized in my intervention research efforts. 
Hannah Schwadron
Making Trouble: Three Generations of Funny Jewish Women, Directed by Rachel Talbot
 
Making trouble, as the Jewish comic performance women in this film make plainly clear, is my rich cultural inheritance and veritable responsibility. Thanks to them and the many more who break the rules, I can enjoy an emboldened stage and writing life and with gusto. In order to choreograph your way out of trouble, my own mentor often says, you have to get in some in the first place!
Chen Huang
Density-Functional Theory of Atoms and Molecules, by Parr and Yang
 
I work in the field of density functional theory. Density functional theory has become the workhorse for electronic structure simulations, thanks to many exciting developments in the field in the past decades. I selected the book "Density-Functional Theory of Atoms and Molecules" by Parr and Yang, because it helped me understand many fundamental aspects of density functional theory. It is an excellent reference for both my research and my density functional theory course.
Christianne Beekman
The Secret Thoughts of Successful Women: Why Capable People Suffer from the Impostor Syndrome and How to Thrive in Spite of It by Valerie Young
 
This is a great and inspiring read for young women scientists! I found the anecdotal examples and advice in this book relevant and empowering. It taught me to own my success! I believe it can do the same for others.
Hans J.G. Hassell
Notes from an Amateur - A Disciple's Life in the Academy by John S. Tanner
 
I read this book by former Florida State Assistant Professor of English John Tanner, just after beginning my first position at a small liberal arts college in Iowa. It is a collection of essays written to faculty when he was the academic vice president of Brigham Young University. In one of those essays, Dr. Tanner emphasizes focusing an academic career on love which is the root of the word amateur. He explains that 'I am persuaded that our professional lives, like our personal lives, ought to be grounded in love. Love is indeed the only motive truly worthy a life. It is the authentic ground for every truly Christian life and for all aspects of our lives as disciples, including our lives in  the disciplines.' Rather than ambition or professional obligation, Tanner advocates the focusing of one's efforts on the love of students, on the love of the discipline and subject matter of study, and on the love of God. This focus has influenced my career and has helped me work through the struggles and disappointments that come with a life in academia. I have found that when I focus on the love I have for what I am doing or for whom I am serving I find my life and my work to be more abundantly beautiful.
Shaofeng Li
Task-Based Language Teaching: Theory and Practice by Rod Ellis, Peter Skehan, Shaofeng Li, Natsuko Shintani, and Craig Lambert
This book is important to me on three accounts. First, the book makes a significant contribution to task-based instruction and to the field of second language acquisition in general. It provides a comprehensive, critical synthesis of the theories, research, and practice pertaining to an area that represents the status quo of the scholarship of the field. Second, the chapters I contributed represent the knowledge I have acquired in the major streams of research I have engaged in: task-based instruction, learners' cognitive and affective differences, form-focused instruction, and research methods. Third, it was a rewarding experience to co-author the book with top scholars in the field, especially Professor Rod Ellis, whose insights and inspirations have influenced the way I think and conduct research in significant ways.
Daniel Fay
Public Values and Public Interest: Counterbalancing Economic Individualism by Barry Bozeman
I was lucky enough to work with Barry Bozeman in my doctoral studies.  This book was essential to my education and research trajectory.  In the text Bozeman describes the false binary between the public and private sectors while also describing the limitations of economic individualism.  I have used this text to explore public management and policy in a variety of contexts, but also to remind myself of the value of effective governance.  This book has received countless awards in my discipline because Bozeman underscores the importance of maximizing the performance of organizations and policies across the publicness continuum in order to achieve public value, not just individual self-interest.
David G. Berlan
The Nonprofit Sector: A Research Handbook, 3rd edition, edited by Walter W. Powell and Patricia Bromley
Scholars of nonprofit organizations, like myself, are scattered across disciplines. This book, and its two earlier editions, creates a venue that brings this scattered research together and charts out potential paths for future research. The book is also personally meaningful. It was the first source that treated my primary area of research interest – missions – as worthy of study, my first book review addressed it, and I am now on my third copy after permanently lending the previous two out to students. I hope this book will serve as a helpful launching point for scholars and students here at FSU beginning to study nonprofits.
Russell Clayton
Psychophysiological Measurement and Meaning: Cognitive and Emotional Processing of Media by Rob Potter and Paul Bolls
I chose Psychophysiological measurement and meaning: Cognitive and emotional processing of media. The authors of this research volume (Dr. Rob Potter and Dr. Paul Bolls), as well as the communication scientists who came before them including Drs. Byron Reeves, Esther Thorson, Annie Lang, and Glenn Leshner, among several others, shaped my academic journey and inspired my research interests in communication processes and effects. It is my hope that aspiring communication scientists benefit from this text in the ways it has benefited me: inspiring creativity, theory testing and building, and the application of psychophysiological methods and measures in the study of media processes and effects.
Courtney Preston
Savage Inequalities: Children in America's Schools by Jonathan Kozol
Savage Inequalities by Jonathan Kozol is one of the first books I was assigned in both my masters and doctoral programs. As a new teacher in an urban, mostly low income, school district, I was struck and, frankly, horrified, by the differences between the schools I was teaching in and the wealthier, largely suburban schools I had attended growing up. Savage Inequalities was the first book I'd read that helped me understand that this was not a phenomenon limited to my own experiences, but a systemic problem across the nation, a problem which ultimately led me to leave the public school classroom to pursue policy research aimed at fighting such structural inequalities and ensuring equal educational opportunities for all students.
Judy M. Delp
Handbook of Physiology: Microcirculation, 2nd edition, edited by Tuma, Duran, and Ley
The Handbook of Physiology has multiple subject books in a series of books that has been a cornerstone for many physiologists-in-training.  This particular book on the microcirculation contains chapters from some of the most renowned microcirculationists in the world.  It is a treasure trove of information on the microcirculation of the human body.  It is possibly the best reference on the microcirculation in existence.  Although the number of scientists who identify themselves as microcirculationists is small, the microcirculation is a critical component of every organ system in the human body; therefore, I think a medical library is well served by adding this book to its collection.
Shamra Boel-Studt
The Child Welfare Challenge, 4th edition, by Peter Pecora
Michael McFarland
Strangers in a Strange Land: Humans in an Urbanizing World by Douglas S. Massey
Sara Scott Shields
Social Justice and the Arts, 1st edition, edited by Lee Anne Bell and Dipti Desai
I have dedicated my career to art education, so naturally I believe it has the potential to change the landscape of contemporary teaching and learning experiences. Because we teach and work in a world where inequity and systemic oppression are the foundation for modern day educational systems, we need resources to teach towards a more socially just world. I chose this work because it explores the relationship between social justice work and the arts and education.  The core argument in this edited book is that art is vital to examining the roots of social inequity and injustice, and that the arts and education hold potential to teach these values and ultimately impact future generations. I share these core beliefs and believe that scholarly work, like this edited volume, are important parts of library collections.
Melinda A. Gonzales-Backen
Presumed Incompetent: The Intersections of Race and Class for Women in Academia, edited by Gutierrez y Muhs, Flores Niemann, Gonzalez, & Harris
I chose this book for the women of color in academia who came before me and those who will come after me.
Gwen Welliver
Trisha Brown: So That the Audience Does Not Know Whether I Have Stopped Dancing, edited by Gabriella Gutierrez Muhs, Yolanda Flores Niemann, and Carmen G. Gonzalez
This catalog captures a key part of Trisha Brown's choreographic process, which I've never seen documented so clearly anywhere else. In the studio she would find concrete, often emotional images in her abstract work. These images gave her what she called the "loose narratives" that would allow her to form much larger pieces. This book is an excellent companion to her piece "It's a Draw/Live Feed" (2008).
Justin Sevier
On the Witness Stand: Essays on Psychology and Crime by Hugo Münsterberg
In contrast to Wilhelm Wundt, who is deemed to be the father of modern psychology, and who believed that psychology is best practiced when it is detached from practical concerns, Hugo Munsterberg believed that the field of psychology is at its zenith when it is applied to issues that can shape legal policy and social justice.  To that end, Munsterberg published his seminal work, On the Witness Stand: Essays on Psychology and Crime, in 1908.  In the century since his book was published, Munsterberg has been credited by leading policy makers, psychologists, and legal scholars as creating the "psychology and law" movement, which seeks to integrate methodological and substantive insights from cognitive and social psychology and apply them to various aspects of legal policy.  In his book, Munsterberg deftly examines issues at the intersection of psychology and the legal system that continue to resonate today: for example, the weight that fact finders should give to eyewitness identifications, the conditions under which apparent confessions may be false or misleading, and the degree to which forensic psychology should be credited by legal fact finders.  Although psychological methods and techniques have evolved dramatically during the century following the publication of his book, the vast majority of substantive work in the intersection of psychology and law has borne out Munsterberg's path-blazing observations and continues to build upon his conclusions.
Jennifer Copp
Legacies of Crime: A Follow-Up of the Children of Highly Delinquent Girls and Boys by P.C. Giordano
Legacies of Crime tracks the lives of a group of highly delinquent girls and boys across adolescence and into adulthood. Drawing on interviews conducted over a period of 25 years, Peggy Giordano develops a view of the intergenerational transmission of crime and other problem behaviors that raises questions about key criminological understandings. In contrast to prior work which focused heavily on parenting deficits, Dr. Giordano provides critical insights into the more active ways in which parents confer risk to the next generation. The social learning processes highlighted throughout this book include an emphasis on parents as direct behavioral models for their children, in addition to the more indirect ways in which parents transmit attitudes, world views, and styles of coping.
Dr. Giordano's work in Legacies of Crime reflects a long career of interrogating the mechanisms underlying existing criminological theories, during which she has made several important theoretical contributions of her own. This book was required reading in one of my very first graduate seminars on crime and the life course. I went on to study under Peggy, and her view of social influences on young people's problem behavior involvement—including the role of parents, peers, and romantic partners—has profoundly shaped my research and assessment of the field. Many of those key ideas are included in this book.
My copy of Legacies of Crime is earmarked from cover to cover. I use it in my teaching and have lent it on several occasions to students. I look forward to others having the opportunity to learn from the work of this accomplished scholar who has so greatly influenced my own life and career.
Qinchun Rao
Water Activity in Foods: Fundamentals and Applications, 2nd edition, edited by Gustavo Barbosa-Cánovas, Anthony Fontana, Shelly Schmidt, and Theodore Labuza
It was challenging to choose a particular book that has a specific significance to my career, as there have been so many that have shaped my career from Fennema's Food Chemistry, which is the most internationally respected reference in food chemistry for decades, to At the Helm: Leading Your Laboratory, which has helped me successfully transition to running my own lab. I finally decided to choose the book that I have turned to more in the past nine years than any other: Water Activity in Foods: Fundamentals and Applications edited by Drs. Gustavo V. Barbosa-Cánovas, Anthony J. Fontana Jr., Shelly J. Schmidt, and Theodore P. Labuza. This is an excellent reference book that brings together an international group of food scientists, chemists, and engineers to present a broad but thorough coverage of an important factor known to influence the attributes of foods – water activity. A team of experienced editors designed this book for lasting value as a sound introduction to the concept of water activity for neophytes and seasoned professionals in both academe and industry. It should be noted that I was fortunate to get the first edition of this book from one of the editors, Dr. Labuza, who was my postdoctoral supervisor at the University of Minnesota. Since then, this book has helped me to build the foundation of my research projects related to the quality, shelf life, and safety of food products.
A. Dana Weber
What Remains: Everyday Encounters with the Socialist Past in Germany by Jonathan Bach
Jonathan Bach's theoretically stringent yet compassionate writing is exemplary for how, as humanities scholars, we can combine erudition with empathy.
Geraldine Martorella
Psychological Approaches to Pain Management, 3rd edition, by Turk and Gatchel
While I was doing my Master's, I was also a clinical nurse specialist at a pain clinic. This is how I discovered my passion for this interdisciplinary field of research. I was both in contact with patients suffering from chronic pain and with patients being hospitalized and experiencing acute pain that could become chronic. This unanticipated outcome of recovery ignited my interest for the development and evaluation of interventions to prevent chronic pain when I started my PhD as it was an emerging avenue and there was so much to do. As a nurse and patient advocate, I couldn't accept that so many patients were not only in pain but were also at risk of developing chronic pain if we didn't relieve this pain appropriately. I also believed that nurses are ideally situated to intervene at every stage of the continuum of care, it then became my mission. The 2nd edition of this book was my best companion both during my master's and PhD. Today, as I am planning the next phase of my research, I will be using the 3rd edition of this book and I am honored to be appointed to the American Psychological Association's panel developing guidelines for the treatment of chronic pain with none other than Dr Turk.
Matthew Pietryka
Everything Is Obvious: How Common Sense Fails Us by Duncan Watts
This book somehow offers excellent advice for both social scientists and normal humans. It has shaped the questions I pursue in my research and the methods I have used to do so. Likewise, it has helped me recognize the giant limitations of making everyday decisions based on "common sense." For a weekend read, that's a lot of value.
Guangzhi Shang
Segmentation, Revenue Management and Pricing Analytics by Tudor Bodea and Mark Ferguson
This book describes the fundamentals of consumer demand analysis and revenue management in the retail and hospitality sectors, using language that is highly accessible to people without sophisticated technical training. I find this book very inspirational to my teaching. I often use this as a cookbook to convert what I have learned in my research into stories and topics that are of interest and accessibility to students.
Christopher D. Holmes
Thing Explainer: Complicated Stuff in Simple Words by Randall Martin
Laurie Wood
Regards sur les Antilles: Collection Marcel Chatillon by the Musée d'Aquitaine
This exhibition guide, from the Bordeaux Musée d'Aquitaine, has informed my own research in the history of the Francophone Atlantic (and Caribbean) World. It also speaks to FSU's unique concentration of faculty in Caribbean, French and Francophone, and Visual Studies.
Zhibin Yu
The Physics of Solar Cells
I chose this book because it is one very useful reference book for my research area. I hope more FSU students will have opportunities studying this book, possibly leading to address climate and energy grand challenge of our generation.
Evan Thomas Jones
Symphony No. 2 Dohnányi
This recording is of great significance to me both personally and professionally. As a proud alum of Florida State, I was thrilled to receive the opportunity to record with our great symphony orchestra. This was also a unique experience because we recorded works by the former FSU faculty member Ernö Dohnányi whose legacy is still felt in the College of Music. I am forever grateful to Maestro Alex Jiménez for this opportunity.