Tutoring will be closed for the break (11/20-11/27) and will resume normal business operations on Monday (11/28).
The FSU Libraries' Tutoring Services are supported by the generosity of the Edward C. Fogg, III and Lisbeth A. Fogg Charitable Trust.
Back to top
Available Sunday - Wednesday 8pm to midnight
In-Person Tutoring
We are located on the first floor of Strozier Library across from Starbucks.
Online Tutoring
Please note: tutors will only be available during our posted active hours.
Need help figuring out Zoom?
How to Access Online Tutoring with Zoom will walk you through downloading and signing into Zoom, finding the link to the active tutoring session, and what happens when you log in for the first time.
Available at Strozier Library
Chemistry
CHM1020 - Chemistry for Liberal Studies
CHM1032 - Survey of General Chemistry
CHM1045 - General Chemistry
CHM1046 - General Chemistry II
CHM2200 - Survey of Organic Chemistry
CHM2210 - Organic Chemistry I
CHM2211 - Organic Chemistry II
CHM3217 - One-Semester Organic Chemistry
Math

MAC1105 - College Algebra
MAC1114 - Analytic Trigonometry
MAC1140 - Precalculus Algebra
MAC2233 - Business Calculus
MAC2311 - Calculus I
MAC2312 - Calculus II
MGF1106 - Math for Liberal Arts I
MGF1107 - Math for Liberal Arts II
Physics

PHY1020 - Physics and Technology for Future Presidents
PHY2048 - General Physics A
PHY2049 - General Physics B
PHY2053 - College Physics A
PHY2054 - College Physics B
Our tutors are upper-year undergraduate students who have successfully completed their lower-year level courses. In order to ensure you have a beneficial and rewarding tutoring experience, please review our policies for students and tutors.
---
Back to top
Tuesday & Thursday 6pm to 8pm
This service supports both levels of general and organic chemistry, and the AXS tutors will be available on the first floor of Dirac near Starbucks.
This chemistry tutoring service is provided by Alpha Chi Sigma.
---
Back to top
Back to top
Visit this site to learn more about other tutoring and support services available on campus.
Need help now? Learn about the resources you can access from anywhere.
Each fall and spring, get ready for the semester with these review sessions.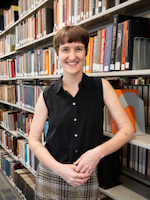 Instruction and Reference Librarian
Teaching, Learning, and Engagement