FY 2016-2017
Print Volumes
in Libraries 
–
 1,753,658
Databases – 434
Electronic Journals – 225,486
INTERLIBRARY LOAN
Total Items Loaned = 13,795
Total Items Borrowed = 11,433
FY 2015-2016
Print Volumes
in Libraries 
–
 2,330,541
Databases – 1,144
Electronic Journals – 125,007
INTERLIBRARY LOAN
Total Items Loaned = 17,347
Total Items Borrowed = 12,657
FY 2014-2015
Print Volumes
in Libraries 
–
 3,375,689
Databases – 1,064
Electronic Journals – 119,385
INTERLIBRARY LOAN
Total Items Loaned
= 
17,772 
Total Items Borrowed
=
11,957
FY 2013 -2014
Print Volumes
in Libraries
– 
2,556,994
Electronic Journals
– 
82,130
INTERLIBRARY LOAN
Total Items Loaned = 21,490
Total Items Borrowed = 11,920
FY 2012 - 2013
Print Volumes in Libraries
– 
3,235,243
INTERLIBRARY LOAN
Total Items Loaned = 15,528
Total Items Borrowed = 22,448
A total of 233,515 books and 
other library materials were 
checked out during 2013.
Library Circulation Changes, 2010-2015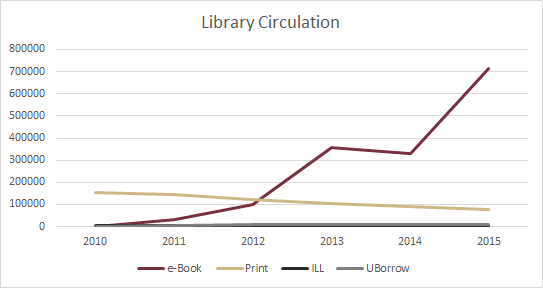 FSU Libraries held access to approximately 1,244,589 e-books as of the 2014-2015 fiscal year. Information on e-book collections and access to ebooks can be found here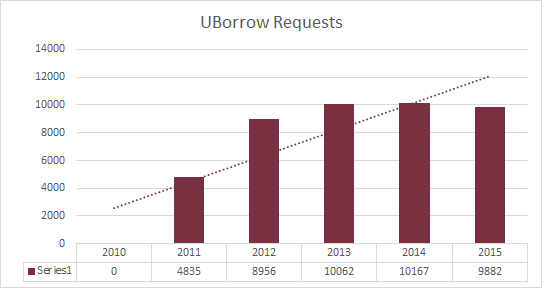 UBorrow allows you to request materials directly from participating libraries within Florida's state university and college systems.  This unmediated borrowing service increases your access to the collections of the other universities and colleges in Florida. Additional information on UBorrow can be found here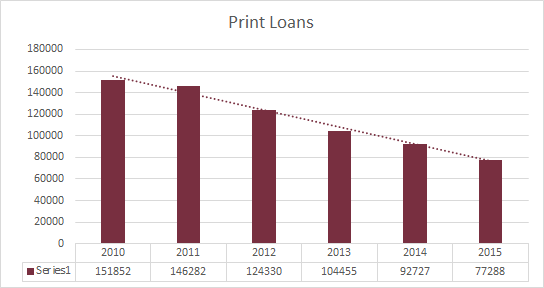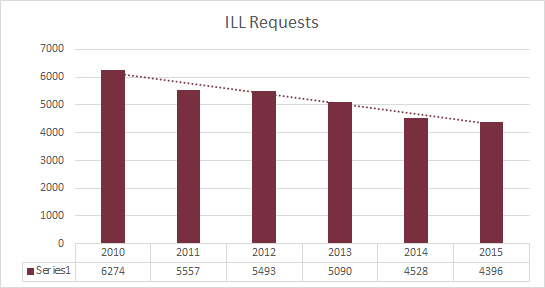 ILL allows you to to request articles, books, and more from libraries around the world. Additional information on what ILL is can be found
here
.