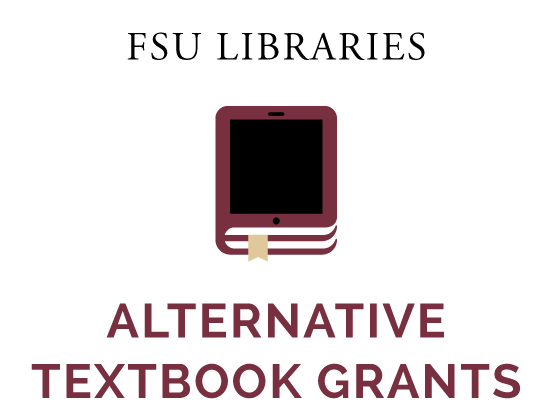 FSU Libraries' Alternative Textbook Grants support FSU instructors in replacing commercial textbooks with open educational resources, open textbooks, or library-licensed eResources that are available to students at no cost. FSU Libraries offers ten grants of $1000 to instructors during the 2021-2022 academic year. In some years, additional funding may be available for those publishing new open textbooks. Open textbooks are written by experts, peer-reviewed and published under flexible copyright licenses so that they can be downloaded, distributed, and adapted for free. New courses and a combination of materials (not just standalone textbooks) are also eligible.
Successful applicants will receive support and consultations to assist in implementing their alternative textbook. The Alt-Textbook team will notify successful applicants within two weeks of each application deadline, before the upcoming textbook reporting deadline. Project timelines may vary but must be completed within 18 months of the date that each grant is awarded. Interested instructors are encouraged to review the grant requirements and submit an online application
Upcoming deadlines: October 1, 2021 
(for spring and summer 2022 courses) and applications accepted on rolling basis after this date
---

FSU Libraries partners with
International Programs
and our international study centers to offer
ten grants of $1000
for main campus instructors that are teaching at our international study centers (five grants per application period) and
six grants of $1000
for instructors based at each of our European study center locations (three grants per application period). Additionally, the Republic of Panama will offer
two grants of $1000
for instructors based at FSU Panama. Please see the International Programs OER Grants
page
and
application
for information specific to applicants teaching on International Programs. 
Upcoming deadlines: On Hold
---
The 35 instructors who participated in previous rounds of the Alternative Textbook Grants program are expected to save FSU students up to $437,000 by Spring 2020. Studies show students have similar or increased success and engagement in courses with open materials. Openly licenses materials support academic freedom and learning outcomes, allowing instructors and students to contribute to knowledge exchange in new, meaningful ways. Visit our Alternative Textbook Grants FAQ for more details about the grant process. 
Requirements for applicants:
Identify the open textbook, open educational resources, or eBook that you will use to replace your current textbook or course materials. Good places to search for OER include OpenStax College, the Open Textbook Library, BCcampus, OER Commons, and MERLOT. You can also search across these and other sources using the GMU OER Metafinder. Contact your subject librarian if you need further assistance in locating open or library-licensed materials. (Note: not all eBooks will be available for purchase and are subject to availability. Click here to learn more about some of the challenges libraries face in providing access to traditional textbooks.)
Obtain a letter of support from your department chair or school/college dean, to confirm that replacing your current textbook will not contravene any applicable policies.
Complete the online application form by the deadline.
Requirements for grant recipients:
Successful grant recipients will:
Enroll in our OER at FSU Canvas course to meet other OER adovcates, engage in discussion, and find resoruces for finding and adopting alternative materials in your teaching
Consult with the Alt-Textbook team to develop a timeline of deliverables, implementation plan, and assessment tools as needed
Promote your work by providing the Alt-Textbook team with press-worthy updates and sharing your experience with your departmental colleagues
Provide feedback about the grant program and suggestions for how it could be improved for future applicants
Application Evaluation Rubric
Alt-Textbook grant applications will be evaluated using a rubric that balances the following criteria to prioritize impact and collaboration:
Estimated savings to FSU students
Openness of proposed content, with openly licensed content given preference over library-licensed materials
Inclusion of a clear plan to assess student learning outcomes
Potential for proposed content to be adopted by other courses or sections 
Departmental commitment (i.e., letter of support from department chair or dean)
Feasibility of project being implemented by anticipated semester
Availabilty and price of eBook to be purchased (if applicable)
Distribution of Grant Funds
Funds will be distributed for technology, software, professional development, contribution to student assistant budget, or copyediting services following procedures outlined in a memorandum of understanding between FSU Libraries and the successful applicants. 
Contact
Camille Thomas, Scholarly Communication Librarian
Lindsey Wharton, Extended Campus and Distance Services Librarian