The cost of college textbooks has risen at
300% the rate of inflation
since 1978, with a
90% cost increase
over the last decade alone. Students increasingly report
not purchasing textbooks due to high costs
, a trend which is widely recognized to negatively impact student learning outcomes. To address these concerns, FSU Libraries are offering Alternative Textbook grants to support faculty and instructors in their efforts to replace commercial textbooks with open alternatives that are available at no cost to students. For information on the winners of the first round of grants in March 2017, see
this press release
.  
During the 2018-19 academic year,
ten grants of $1000
each are available for FSU faculty or instructors who are interested in adopting or remixing open textbooks and educational resources to replace commercial course materials. Proposals to replace commercial materials with Library-licensed electronic books or journal articles will also be considered. No more than one grant will be awarded per instructor. Applicants should review the information below before completing the
online application form
. 
Additionally, FSU Libraries is partnering with
International Programs
and our international study centers to offer
ten grants of $1000
for main campus instructors that are teaching at our international study centers (five grants per application period) and
six grants of $1000
for instructors based at each of our European study center locations (three grants per application period). Additionally, the Republic of Panama will offer
two grants of $1000
for instructors based at FSU Panama. Please see the International Programs OER Grants
page
and
application
for information specific to applicants teaching on International Programs. 
The Libraries' Alt-Textbook team will review completed
application forms
after the following application deadlines: 
October 1st, 2018 
(for spring and summer on-campus courses) or
November 15th, 2018
(for courses taught at our international study centers) and 
February 1st, 2019
(for summer and fall courses). The Alt-Textbook team will notify successful applicants within two weeks of each application deadline. Project timelines may vary but must be completed within 18 months of the date that each grant is awarded.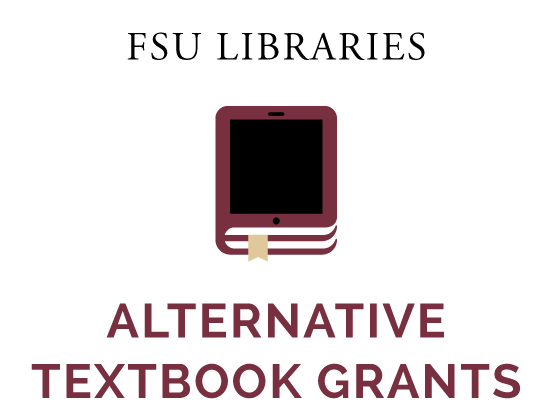 Requirements for applicants:
Identify the open textbook or educational resources that you will use to replace your current textbook or course materials. Good places to search for OER include OpenStax College, the Open Textbook Library, BCcampus, OER Commons, and MERLOT. You can also search across these and other sources using the GMU OER Metafinder. (Contact your subject librarian for search help.)
Obtain a letter of support from your department chair or school/college dean, to confirm that replacing your current textbook will not contravene any applicable policies.
Complete the online application form by the deadline.
Requirements for grant recipients:
Successful grant recipients will:
View two workshops (one hour each) by the end of the semester in which they submitted their application (i.e., Fall 2018 or Spring 2019):

Getting Started with Open Educational Resources (OER)
From OER to Open Pedagogy

Meet with the Alt-Textbook team to develop a timeline of deliverables, implementation plan, and assessment tools
Promote your work by providing the Alt-Textbook team with press-worthy updates and giving a presentation to colleagues in your department or school/college
Provide feedback about the grant program and suggestions for how it could be improved for future applicants
Application Evaluation Rubric
Alt-Textbook grant applications will be evaluated using a rubric that balances the following criteria to prioritize impact and collaboration:
Estimated savings to FSU students
Openness of proposed content, with openly licensed content given preference over library-licensed materials
Inclusion of a clear plan to assess student learning outcomes
Potential for proposed content to be adopted by other courses or sections 
Departmental commitment (i.e., letter of support from department chair or dean)
Feasibility of project being implemented by end of the 2018-19 academic year
Distribution of Grant Funds
Funds will be distributed for professional travel expenses, technology, or software following procedures outlined in a memorandum of understanding between FSU Libraries and the successful applicants. 
Contact
Devin Soper, Scholarly Communications Librarian
Lindsey Wharton, Extended Campus and Distance Services Librarian