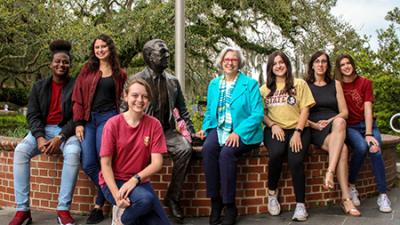 Welcome to the Florida State University Libraries. As one of the top 50 public academic research libraries in the U.S., the Florida State University Libraries are essential partners in the intellectual life of the University and enhance the learning, teaching, research, and service activities of the Florida State University community.
We are excited to work with you to realize your teaching, learning, and research goals. We strive to create and maintain a welcoming and inclusive environment in which all individuals are treated fairly, respectfully, and valued for their distinctive skills, experiences, and perspectives.
I invite you to visit our one of our libraries when you are on campus or visit us virtually, 24/7, at our website to explore the Library's rich collections, innovative services and learning spaces. Your thoughts and suggestions are welcome. We look forward to meeting you soon, and wish you great success at FSU.
Gale Etschmaier

Dean of University Libraries
Contact:
(850) 644-5211
(850) 644-5016 (FAX)
The Florida State University Libraries
116 Honors Way
Tallahassee, FL 32306