Physical course-related materials, such as books, DVDs, and microfilm, can be placed on Reserve at Strozier, Dirac, Engineering, or Music for students to use in the library for short periods of time (2 hours for books/microfilm; 4 hours for DVDs/media). To place a physical book on Reserve, fill out the Course Reserve Request Form and choose the respective library you'd like the book to be at.
Any items that need to be on Reserve for the first week of the semester should be submitted at least 3 weeks in advance. (For streaming media, we cannot guarantee any requests with less than three weeks notice).
Reserve requests may take up to 72 hours to process, though ones submitted during the first week of the semester can take up to 5 days.
Instructors have two options available to place personal materials on Reserve at the Libraries. Instructors may:
Request that materials they own be placed on Course Reserve by choosing the "personal copy" box when filling out the form and bringing the material into the library of their choice, leaving it with the Scholar Support Desk staff.
Request that the Libraries pick up their personal items (e.g., books, DVDs) to place on Course Reserve using the Library Express Delivery (LEDS) Pickup Request form. (Please note: for this option, you must fill out the Course Reserve Request form AND the LEDS Pickup Request form.)
IMPORTANT: Instructors must pick up their personal copies within one month after the end of a semester or they will be considered donations to the Course Reserve collection.
At the end of each semester, Reserves staff will remove the library-owned materials for that semester off Course Reserve and return them to the general collection. To claim your personal copies, please email lib-coursereserves@fsu.edu.
Online materials such as eBooks, articles, or scanned book chapters may be placed on eReserve. These materials are placed in your Canvas course for your students to use, in a folder called "eReserves." To place an eReserve request, fill out the Course Reserve Request Form and choose "Electronic Course Reserve (Placed in Canvas)" as seen below: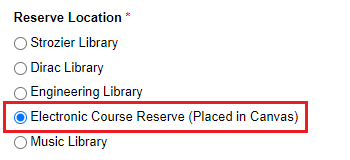 Any items placed on eReserve must meet FSU Libraries' Polices & Practices, which follow the conditions of copyright law. Our copyright policy for Course Reserves is listed in full on our Copyright Guide. A copyright notice will be displayed with each item in the online course reserve system in Canvas.
eReserve access is limited to those enrolled in the Canvas course only.
Materials to be copied or scanned for electronic reserve must be owned by the library. Items requested through Interlibrary Loan or UBorrow are not eligible as Reserves.
Before submitting a request for streaming video, please review the Libraries' guide on streaming video collections and other models for providing streaming access in your course.
To place a Streaming Media Request, please fill out the Streaming Media Request Form.
All materials delivered via this service will be:
Limited to students currently enrolled in a given course
Demonstrated to be integral to the course and directly related to its pedagogical goals
Restricted from further dissemination and access beyond an appropriate time period to meet the pedagogical goals of the course
Posted with explicit policy notices regarding copyright compliance.
Other important limitations on this service:
Requesting Instructors are limited to three (3) streaming media Course Reserves requests per course, per semester.
If access to a full title is requested and the title is available for license on a library-provided streaming platform (e.g., Swank, Kanopy, Alexander Street Press, or through other streaming media databases), we unfortunately cannot provide this streaming media service, and instructors must reach out to their subject librarian to discuss alternative options.
Note on Accessibility & Subtitles: All video materials must be provided with captioning to meet legal requirements for accessibility. If caption elements cannot be extracted from or produced for the original media, it cannot be hosted in Canvas.